David Garibaldi: Perpetually Hip With Tower Of Power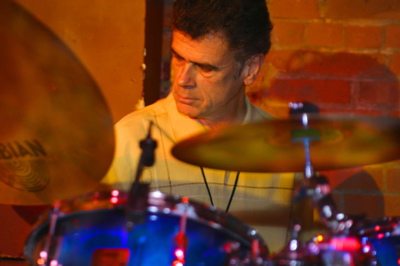 In the '70s, David Garibaldi's drumming with Tower Of Power was a revelation. Not only did he lay down some of the baddest beats ever played, the master drummer expanded the vocabulary of the instrument. Give a listen to some of those classic grooves, like "Squib Cakes," "What Is Hip?," "Drop It In The Slot," "Soul Vaccination," and the seminal "Oakland Stroke." Drummers hadn't heard anything like them before. Garibaldi created a multi-layered effect between the snare, hi-hat, and bass drum that wove together seamlessly, his mastery of ghost notes and beat displacement was unparalleled, and his fresh fill concepts added yet another spark to the mix. Garibaldi's precise playing style melded perfectly with the ten-man band's unrelenting 16th-note approach—from the stinging horns right down to the monstrous bass. No question, Garibaldi was one of the most influential drummers of that era.
After ten years with Tower, in 1980 Garibaldi felt it was time to move on and left the San Francisco Bay Area for Los Angeles, with the hopes of building a career in the studios. Over the following nine years, David played on recordings by Gino Vannelli and fusion band Wishful Thinking, wrote books (including the well-received Future Sounds), and became recognized as a fine teacher and clinician. By the end of the '80s, though, Garibaldi was tired of the vibe in L.A. and decided to return to the Bay Area. Back on home turf, things started to mushroom. Garibaldi began exploring Afro-Cuban rhythms and formed the innovative Talking Drums percussion trio to present these concepts. He also joined Mickey Hart's Planet Drum ensemble, which featured other rhythmic giants such as Giovanni Hidalgo, Zakir Hussain, and Airto.
Then, in 1998, Garibaldi went to see Tower of Power at the Fillmore in San Francisco, and shortly thereafter was invited to rejoin his old band when drummer Herman Matthews decided to leave during a European tour. What Garibaldi initially believed would only be a short Japanese tour turned into a decade-plus reunion between one of funk's most longstanding bands and one of its most innovative drummers. Today, both drummer and band are back in top form, impressing audiences with their unique blend of booty-shaking funk and rhythmic sophistication while continuing to record, most recently with 2009's The Great American Soulbook. Advertisement