Brian Reitzell: Total Immersion In Sound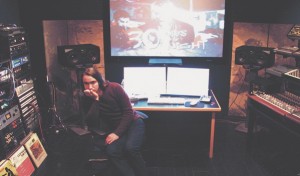 Brian Reitzell came to attention in the early '90s as the drummer with LA pop-punk band Redd Kross, touring with them and playing on the albums Phaseshifter and Show World. As great as the music on those records is, though, it hardly prepared fans for the depth and breath of Reitzell's future work as a player, producer, composer, film-music supervisor, and sound experimenter of the highest order.
In 1997 Reitzell produced the album Flyin' Traps, which featured original recordings by the top alternative-rock drummers of the time, including Joey Waronker, Josh Freese, Matt Cameron, Steven Drozd, and Stephen Perkins. With the French electronica duo Air, Reitzell established a unique acoustic/electronic drumming approach and recorded the studio albums 10,000 Hz Legend and Talkie Walkie, as well as the soundtrack to Sofia Coppola's film The Virgin Suicides. The creative partnership with the director proved so successful that Reitzell was tapped for Sofia's subsequent films Lost In Translation and Marie Antoinette, which helped establish him as a fresh musical voice in Hollywood both for his original compositions, heard in films like 30 Days Of Night and Peacock, and for his unique ability to find and foster remarkably complementary music, such as in the films Friday Night Lights, Stranger Than Fiction, CQ, and Thumbsucker. Despite his busy soundtrack work, though, Reitzell has continually lent his drumming prowess to recordings by a wide variety of artists, including Nikka Costa, Turin Breaks, Action Figure Party, and the band TV Eyes, featuring his long-time collaborators Roger Joseph Manning and Jason Falkner.
Reitzell started playing drums at six. His earliest memory was being propped at his uncle's kit and seeing that kitchen utensils sat alongside sticks as a naturally accepted implement of playing, kindling his now-flourishing penchant for experimentation. Meanwhile, Brian's love for all music—playing and listening—was fueled by an extensive and diverse record collection courtesy of a local radio station's fortuitous conversion to talk radio. Advertisement
Fast forward a bit, and you have a ceaselessly creative musician using everything from pottery wheels to glass vases in order to create unusual and effective sounds for his films. Even when he does use "normal" drums, Reitzell finds new ways to alter or control the sound to his specifications, such as using an underwater microphone to capture water pouring on a gong for 30 Days Of Night. One can only wonder where Brian Reitzell's musical imagination will take him next.