Allison Miller: Shape-Shifter, Bridge-Builder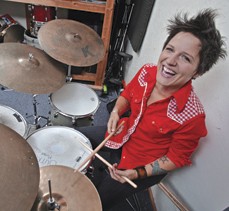 Allison Miller began her drumming journey early, studying with top Washington D.C. teacher Walter Salb as a youngster and being featured in Downbeat magazine's Up And Coming section in 1991 as a teenager. After graduating from West Virginia University with a bachelor of music performance, Miller moved to New York City to study with Michael Carvin and Lenny White.
In conjunction with her continuing studies, Miller has also established a bountiful career as a freelance drummer, composer, producer, and teacher in her own right. Her jazz skills have landed her gigs with everyone from avant-garde saxophonist Marty Ehrlich to organ legend Dr. Lonnie Smith, while her pop/rock sensibilities have garnered the attention of singer/songwriters Ani DiFranco, Natalie Merchant, and Brandi Carlile.
Miller also leads or co-leads several bands including EMMA with singer/songwriter Erin McKeown, TILT with pianist Taylor Eigsti and bassist Jon Evans, and Agrazing Maze with trumpeter Ingrid Jensen, pianist Enrique Haneine, and bassist Carlo DeRosa. She has also found the time to release two solo albums: 5am Stroll (2005) and 2010's BOOM TIC BOOM, which is a celebration of all the important women in the musician's life.
In 2008, Miller produced the children's album Ask The Planet, which connects music with the ideals of environmentalism. That same year she founded the Walter Salb Memorial Musical Scholarship Foundation in honor of her late teacher. Each year, the scholarship funds a promising young musician for the furtherance of their music education. Miller also holds an adjunct teaching position at Kutztown University and teaches classes and seminars at high schools and colleges throughout the United States. She was also chosen by the U.S. State Department to tour East Africa, Eurasia, and Southeast Asia as a "jazz ambassador." Advertisement