Vinnie Colaiuta: Unlike Anybody Else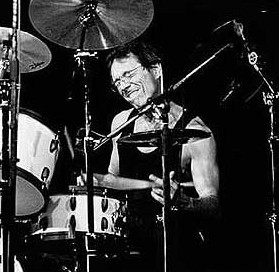 Ask fifty drummers about Vinnie Colaiuta, and you're likely to get the same answer: "There's Vinnie, and then there's everyone else."
Vinnie Colaiuta's career is a testament not only to his immeasurable talent, but also to his ability to maneuver the twists and turns of the music business. Easily the busiest session drummer in the world, he's found an ideal balance between gigs that enable him to employ his unequaled technical and improvisational ability, and those that offer the joy of playing the perfect pop drum part.
Vinnie's facility on the drums surfaced early. After the normal junior- and senior-high music programs, he took lessons with local teachers and spent summers at music camps. A chance meeting with drummer Steve Smith led to his enrollment at the Berklee College Of Music. But only two semesters later, teacher and supporter Gary Chaffee suggested that Vinnie try his luck in the pro scene. Vinnie played Top-40 and jazz gigs in Boston for a time, before moving to Los Angeles in 1978.
Shortly after Vinnie's arrival in L.A., the polyrhythms that he'd practiced as a youngster served him well on an audition for legendary composer/performer Frank Zappa. Playing on Terry Bozzio's kit (and never having played double bass before), Vinnie nailed Zappa's complex music and won the gig. His work with Zappa over the next four years is acclaimed as unparalleled to this day. Advertisement
Vinnie entered the L.A. studio scene in the early '80s, rapidly becoming a first-call guy. Since then, he's done literally thousands of record dates for artists of every conceivable style, from Allan Holdsworth to Celine Dion, and from Megadeth to Andrea Bocelli. He's also recorded hundreds of commercial jingles, as well as movie and TV soundtracks. He even held the drum chair on the high-profile (if short-lived) Joan Rivers Show.
At the same time, Vinnie established his reputation as one of the world's most in-demand touring drummers. His astounding versatility and musical sensitivity has supported artists as diverse as Joni Mitchell, Tom Scott, Chaka Khan, Lee Ritenour, Dave Grusin, Sting, Mike Stern, Faith Hill, and Herbie Hancock.
Over Vinnie's thirty-year career, his staggering work schedule has only served to make him better. Vinnie plays deeper grooves today than he did thirty years ago, and he can still burn as intensely as when he amazed the drumming world on Zappa's "Keep It Greasy" in 1979. The man does it all, with a signature sound and an unerring musical approach. Advertisement