Rashied Ali : Coltrane's Free Thinker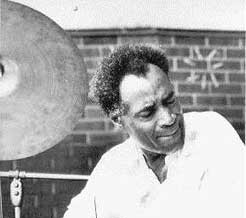 Rashied Ali was one of the progenitors of "free jazz" drumming, a stylization in which the typical guidelines and expectations of time and meter are ignored in favor of a looser approach that seeks to incorporate ideas of rhythm, melody, and harmony together on the drums. Initially scorned, free jazz has since gained widespread prominence within the genre, and Ali's drumming stands as a benchmark in the style.
Ali, a Philadelphia native, earned his musical stripes with local R&B groups before gradually immersing himself in the Philly jazz scene with musicians such as Lee Morgan and Jimmy Smith. In the '60s Rashied moved to New York City and soon became a fixture of the avant-garde scene, backing Don Cherry, Pharaoh Sanders, and Archie Shepp, among other leaders of the field. It was for the latter that Ali made his first major recording, On This Night, in 1965.
Around the same time Ali began to sit in with John Coltrane's group at various Manhattan clubs and, in November 1965, the groundbreaking sax player chose Rashied to complement the legendary Elvin Jones in a new two-drummer format he was experimenting with. The resulting Meditations (1965) is considered one of the greatest examples of dual drumming, with the two jazz masters blending their sounds into a single, expressive force. Rashied continued to play with Coltrane through the last years of his life, including on the unique duet album Interstellar Space (1967). Advertisement
In an attempt to revitalize the New York jazz scene in the early '70s, Ali opened the aptly titled club Ali's Alley and established Survival Records. Although Ali's Alley closed in 1979, throughout the '80s and '90s Rashied continued to perform with a virtual who's who of jazz, including bassist Jaco Pastorius and saxophonist David Murray, while at the same time mentoring young players such as Matt Smith.
In 2003 the drummer formed the Rashied Ali Quintet. The group released two CDs in 2005, Judgment Day Vol. 1 & 2, as well as Live In Europe a few years later, before Ali succumbed to a heart attack on August 12, 2009.