John Bonham: The Soul Of Rock Drumming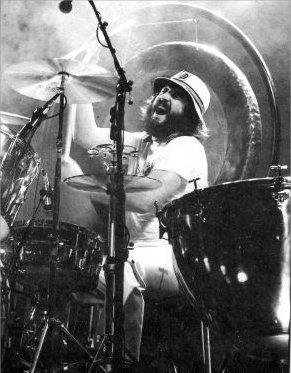 The greatest rock 'n' roll drummer in history was a soul drummer. Despite all the deserved attention paid to his brilliant soloing ideas, his rhythmic sophistication, or his bass drum prowess, John Bonham was, above all else, a groover.
Drummers inherently pick up this, even if at first they don't realize what it is that draws them to Bonham. Like nearly every British rock musician in the mid-'60s, the members of Led Zeppelin played in groups specializing in amped-up versions of black American music like the blues, R&B, jazz, and soul. To play that music convincingly, you had to swing, and few drummers in any genre have swung with as much swagger as John Bonham. As cool as his beats and fills were, Bonham's delivery was what truly set him apart.
In the liner notes to Led Zeppelin's Box Set, Zep bassist John Paul Jones explained how, on the plane, he and Bonham would listen to James Brown tapes. "Bonzo had very broad listening tastes," Jonesy shared. "When we weren't listening to James Brown or Otis Redding, he might be listening to Joni Mitchell or Crosby Stills Nash & Young. Bonzo was a great lover of songs." Advertisement
No discussion of Bonham—or Led Zeppelin—would be complete without talking about sound. Zeppelin guitarist/producer Jimmy Page is one of rock's great sonic architects; the inventiveness and taste he wielded while recording Led Zeppelin albums is unparalleled in rock history, and Bonham's drum sound is an integral part of that legacy. Jack Irons (Pearl Jam, Red Hot Chili Peppers) gets understandably animated when talking about Bonzo's awesome sonic presence: "Arguably he had the best drum sound in rock history," Irons states. "So, the best player also had the best sound. And his sound was certainly big, but not big in the subsonic way associated with today's recordings. It was really explosive and full of attack, and it didn't avoid overtones. And that great tone complemented his playing. Bonham couldn't be separated from his sound; it went with him."
Look below to see a video tribute on Bonham from Modern Drummer.