Dave Tough: Different—And In Demand
The inimitable Dave Tough controlled every band in which he worked with near-perfect timekeeping and his own distinct, buoyant style. Very much influenced by Baby Dodds, his primary concerns were musicality, maintaining an unwavering pulsation, and integrating the ensemble performance. His playing was subtle yet inspired, and though he rarely soloed—having little technical ability to speak of—he played with an intensity that only Buddy Rich could match. At a mere ninety-eight pounds, Tough propelled the Woody Herman band with a fire, energy, and drive that was unequaled. He tuned his drums to definite pitches, employed larger cymbals than had previously been used, and made the ride cymbal the basic instrument of his set.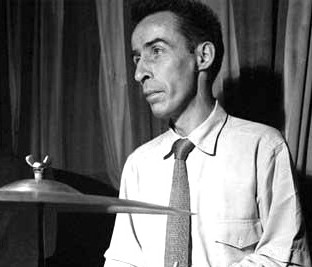 Tough, who was born in Oak Park, Illinois, jobbed with Bud Freeman and Eddie Condon in the late '20s and freelanced in New York with Red Nichols. In 1936 he joined Tommy Dorsey, and later worked with bands led by Bunny Berrigan, Joe Marsala, Jack Teagarden, Artie Shaw, Benny Goodman, and Charlie Spivak. However, it was his outstanding playing in Woody Herman's mid-'40s band that havd a profound effect on other drummers, earning him the acclaim he so well deserved.
Ed Shaughnessy remembers Dave Tough this way: "I first heard Davey with Woody's band, and it was a great revelation, because he had such immense power. He never brought the drums to the forefront, but preferred to simply build a tremendous foundation. When I got to know him, I realized he did many things that were unusual in those days. For instance, he'd keep a wet rag behind the set and wipe the calf bass head to keep it damp. He was also the first drummer I heard who played the bass drum relatively loose. While most drummers were getting a much boomier sound, Davey got a flat sound and used a wooden beater, claiming it didn't interfere with the bass player as far as tonality was concerned. As a result, he was able to play harder with a flatter sound. Advertisement
"Davey also had one of the finest ears for cymbals I've ever heard," continues Shaughnessy. "Sometimes he'd reinforce brass figures with a little 15″ cymbal, where anyone else would have added bass and snare. He didn't like to interrupt the rhythmic flow, so he colored it with the cymbal only. Dave was probably one of the finest examples of someone who didn't have lightening-fast hands and never wanted to solo, but was still one of the most in-demand drummers in the history of jazz."
Dave Tough died from injuries sustained in a fall in Newark, New Jersey in 1948, at the age of forty.