Mayhem Week! Brandon Saller of Atreyu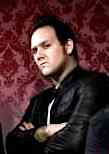 By the looks of the divots in my drumheads after the first day of Mayhem, the energy will be raging this summer. After a month in Europe on my scaled-down kit, it's nice to get back to the big dog. This tour is definitely a tour of massive drumkits. I think between us, Five Finger Death Punch, Lamb of God, Rob Zombie, and Korn, we could open up the world's largest drum shop! It's cool to see drummers string creative with their kits. It's definitely a "bigger is better" vibe on this tour.
Speaking of bigger is better, Zombie has been an amazing treat every night. Joey Jordison is always badass to watch. I think that Zombie has, by far, the most entertaining and pyro-heavy show I've ever seen. I've been a huge fan for some time, so it's rad to watch every night.
We've been doing signings every day at our merch tent and giving away some sweet prizes. This week, two Dan Jacobs signature guitars wound up in the hands of two lucky ladies. We've got tons of other rad prizes too. It's gonna be like an Atreyu lottery all summer! Advertisement
Aside from having to leave the side of my beautiful wife, this tour's been great. Goals for the rest of the summer will be as follows:
1) Chat drums/Jack Daniels with Joey Jordison.
2) Hang with Rob Zombie and talk all things blood and guts.
3) Sit behind Ray from Korn's massive drumkit and see what he's working with.
Until next time, we'll be partying every day at 4:40 on the Silver Star stage. See you there. Oh yeah—go buy Norma Jean's new album Meridional.