Paul Manousos' Andrew Griffin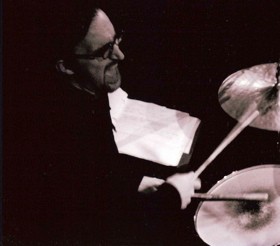 If I have an identity as a drummer, it's "always play for the song." For example, Paul Manousos' current release, C'mon C'mon, one of the drumming projects I've done recently that I'm most proud of, required me to use my skills both as a drummer and an arranger. I like being part of a rhythm section rather than only the drummer. In fact, the East Bay Wrecking Crew, the rhythm section that formed in Paul's band, has gone on to back up many other bandleaders. It's really easy for a singer-songwriter to have the East Bay Wrecking Crew back them up because there's so much chemistry. It fits in with my general philosophy—I get more satisfaction out of a band sounding really great than just me sounding good.
For me, being a drummer is one facet of being a musician. It's not the be all and end all, but I do love it. It brings me a lot of happiness, and I think it brings other people a lot of happiness, too. Ringo is the drummer who has most inspired me along these lines. He was so musical in the Beatles—how he made the tunes feel. And his time had a wonderful quality to it. There was a lot of neat drum stuff he did, too, a lot of innovative things. Especially for me as a young drummer, it was stuff I could grasp—not so complex that I couldn't make sense of it. There's a lot of stuff that I can play today that I couldn't then, but I still keep going back to Ringo as an enormous influence in so many ways.
I've been writing songs almost as long as I've been playing drums, and I was very happily doing that and moving ahead with my career when, in 2006, I got diagnosed with cancer. That was a life-changing experience. Faced with an awfully dire situation, I did the one thing I knew how to do to make myself feel better, which was to hunker down inside my little studio and cobble together my record. Accidental Drowning came out in the fall of 2009. Advertisement
I didn't think about doing the project to keep me from going crazy, but in retrospect that's what I was doing. Lance Armstrong had a bike and I had a studio. In the process, I started writing songs about what I'd been through. By the time I finished my record I wanted to put a band together and start performing. That led to the creation of Felsen and of me stepping out from behind the drums. It made more sense for me to have someone else behind the drums and for me to be the front person. We're about to release our second record, Felsen Loves You, on the Ninth Street Opus label.
Drumming and songwriting feel to me like two branches of the same tree. I started songwriting not long after I started playing drums. They co-developed. In the Felsen stuff we've done, I'm definitely looking for a really strong sense of rhythm, a strong sense of swing, and a great sense of time, plus a high degree of musicality but also simplicity. I think that actually has a lot to do with my drumming, because of the Ringo influence, but that kind of informs how we all play our instruments, not just the drummer (Mark Bernfield, an old friend from my Berklee College days). Nobody overplays in Felsen. There's no showboating. Everything is very organized and arranged, but I think it makes for a really big sound when everybody's playing simply and their parts fit together.
I feel like this is the best art I've ever made. Great art has to be attached to some kind of intense emotion. That's why what I'm doing now is so much better than before. I feel like I've found that clear pathway to genuine emotion, and not to be afraid of that stuff. It's more meaningful. Whatever I'm doing now, whether playing drums, guitar, or singing, I've got more at stake. And I think people respond to that emotionally. That clarity allows me to connect with the song in a different way and has kind of given me a way into what songs have always been for me. Advertisement
It's what I tell my students: Let's just make the music feel really good first. Play the song. Put the needs of the song first. Start there and develop that. Work really hard on getting a good vibe on the music we're playing. Then it's time to learn to improvise. Because if your sense of time isn't happening, if you try to improvise as your starting point, it doesn't feel good physically. If you don't have the foundation of that groove, then anything you do on top off that is meaningless.

Andrew Griffin has performed or recorded with Cake, Vince Welnick, members of Camper Van Beethoven, and Jonathan Richman, among others. He currently teaches drums at RedHouse in Walnut Creek, California, and at his own East Bay Drummers' Studio in Oakland, California. For more, go to www.myspace.com/felsenlovesyou or www.paulmanousos.com.