Adolfo "Fofi??? Lancha of Sabado Gigante/Don Francisco Presents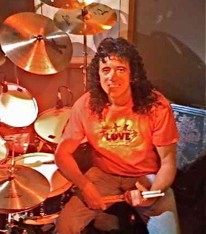 I was born in Cuba, and at an early age I was mesmerized by the rhythms of the comparsa on the streets. After seeing the movie Don't Knock The Rock, featuring Little Richard and Bill Haley & the Comets, I knew drumming would be my lifelong ambition and goal.
By 1961 I relocated to New York City. One night my father took me to see Gene Krupa outside the Metropole Café. The next day my dad bought my first set of drums (Rogers, which I still have). I studied for three years at Henry Adler Music School at 47th Street. By seventeen I was offered my first paying gig with a rock band at the New York Sheraton Hotel at 34th Street, which lasted for three years. At this time I performed with the well-known writer/singer Valerie Simpson and recorded my first single with the gospel soul group Reflections.
In 1973 I relocated to Miami, studying at Miami Dade Community College and taking private lessons. By that time word started getting around in the Latin community about "this kid with rock chops" Chirino. Considered the father of the Miami Sound in the '70s and '80s, he took me under his wing and I started touring and recorded several albums. At the same time I recorded and performed with Spanish artists such as Celia Cruz, Gloria Stefan, Jon Secada, and Julio Iglesias. One of my biggest moments came in 1980 when I joined the Max Demian Band and recorded their second album on RCA, Call Of The Wild. Advertisement
And it was a thrill working in the early '90s with Bobby Keys and Mick Taylor of the Stones in a band called Tumbling Dice. At the same time I toured for three months and recorded a CD with KC & the Sunshine Band.
For the last twenty-three years I have been the house drummer for the number-one Spanish television show on the Univision Network, Sabado Gigante International. For the past ten years I've also been the drummer for a second television show, Don Francisco Presents, which has a similar format to David Letterman. With two shows under my belt, I still find time to give private drum lessons and to work with other artists.
To see some rare onstage footage of Adolfo "Fofi" Lancha on the set of Don Francisco Presents, go to www.youtube.com/watch?v=iXeIhK_fmrc. And for more with Fofi, go to www.fofi.net.