Kenny "Klook" Clarke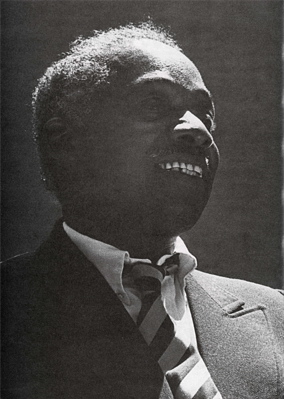 Kenny Clarke emerged from the swing bands of the '30s, but was actually the first important drummer of the bop era. Born in Pittsburgh in 1914, Clarke began his career with Roy Eldridge and around the Midwest with the Jeter-Pillars band. He made his first recordings with Edgar Hayes in 1937, and later worked with Claude Hopkins, Teddy Hill, Louis Armstrong, Ella Fitzgerald, and Benny Carter.
Following his army discharge, Clarke returned to New York to join Dizzy Gillespie's big band, where he made numerous recordings on which we can hear the first indications of drumming based on the use of the bass drum for accents, the timekeeping function shifting over to the ride cymbal, and the left hand interacting with the soloist. In essence, Kenny Clarke was freeing the drummer from a strictly metronomic role, allowing him the opportunity for more creative interplay, and forcing the bass player to share more of the timekeeping burden.
Kenny Clarke recalled experimenting with a new style of drumming as early as 1940 at Minton's in New York. It was here where his rhythmic ideas meshed with the thinking of young boppers like Dizzy Gillespie, Charlie Christian, Thelonius Monk, and Charlie Parker. Advertisement
"By 1940, I had everything I was trying to do together," said Clarke. "Before that, I was always thinking, 'There must be an easier, simpler way to keep the band together.' I thought about it for many years. I was still playing the old way, but once in a while I'd do that cymbal thing: ding-ding-a-ding. I figured you could hear the time better than on the snare drum. The bottom never changed. I just put the time up on the cymbal to ease the weight of the bass drum. I'd tell the guys to put the time in their heads and play. Once they got it in their heads, I went upstairs to stay. I played the time up there, and it gave my left hand the freedom to do other things."
Later in his career, Clarke worked on 52nd Street with Tadd Dameron's sextet, where his relaxed style was a modern extension of the feeling Jo Jones had achieved with the Basie band. His playing had become a synthesis of previous approaches, most notably the ride cymbal of Jo Jones, the unpredictable, explosive solos of Sid Catlett, and the timbral variations of Baby Dodds.
Clarke continued to freelance around New York with important modernists, and in 1952 was instrumental in the formation of the legendary Modern Jazz Quartet. In 1956, he left for Paris, where he took up residence and remained until his death in 1985. More than any player who had come before, Kenny Clarke gave jazz drummers an opportunity to fully express themselves, unleashing the chains that had bound them up to that point. His unique concepts would eventually impact on every jazz drummer the world over. Advertisement