Abe Cunningham: Deftones' Sophisticated Slammer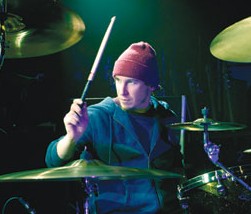 Deftones came to prominence in the early '90s for blatantly contrasting super heavy guitars riffs and screamed vocals with more melodic, emotional elements. To many listeners, Abe Cunningham's thunderous yet musical and precise drumming helped set the band miles apart from the many nu-metal acts they're often, and for the most part unfairly, lumped in with.
Cunningham was born on July 27, 1973, and grew up in Sacramento, California. He first started honing his skills in his early teens and was childhood friends with future Deftone bandmates Stephen Carpenter (guitar) and Chino Moreno (vocals and guitar). In high school, the three started jamming in Carpenter's garage, and when it was decided that Chi Cheng would play bass, Deftones was born. In 1995 the band released their debut album, Adrenaline, on Maverick Records.
Nineteen ninety-seven's Around The Fur raised the band's status among fans and critics, and the song "Elite," from 2000's White Pony, won them a Grammy for Best Metal Performance. White Pony also became Deftones' first platinum album. Advertisement
Deftones' self-titled 2003 album debuted at number 2 on the Billboard album charts, while 2006's Saturday Night Wrist had the band out on the road for the majority of the year, including Taste Of Chaos, Family Values, and Soundwave shows. Deftones' next album, Eros, was set to be released in early 2009 but was delayed indefinitely after Cheng was seriously injured in a car accident. Since that time, the bassist has remained in a minimally conscious state. Diamond Eyes, their first album recorded without Cheng, was released in early 2010 with former Quicksand bassist Sergio Vega on bass.