June 2010 Issue of <em>Modern Drummer</em> Featuring The Roots' Questlove
On the Cover
The Roots' AMIR "QUESTLOVE" THOMPSON

Their time on Fallon has left the hip-hop pioneers pumped and playing stronger than ever. Quest and Co. harnessed that energy, booked studio time, and produced the "live" R&B album of their dreams.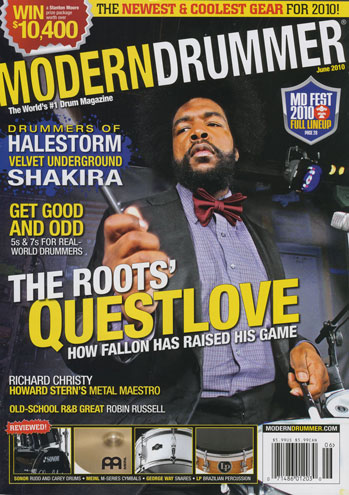 FEATURING
ROBIN RUSSEL
His playing with the 70's soul/funk band New Birth is revered by those lucky enough to experience it the first time around. Today the drummer continues to share the funk with fans at reunion shows-and with anyone who happens upon his little corner of L.A.'s Griffith Park.
RICHARD CHRISTY
Most people know him as one of Howard Stern's sidekicks. But he's also among the greatest metal drummers of our time-and one of the most relentless woodshedders a drumset has ever seen Advertisement
SPECIAL PRE-FESTIVAL UPDATE
• Royal Crown Revue's DANIEL GLASS
• Prince's CHRIS COLEMAN
• Coheed and Cambria's CHRIS PENNIE
• SNL's SHAWN PELTON
• Nashville Studio Ace SHANNON FORREST
• Break Science's ADAM DEITCH
• International Drum Star BENNY GREB
• Galactic's STANTON MOORE
Gimme 10! PAUL WERTICO
A Different View BILL LASWELL
Woodshed Cyndi Lauper's SAMMY MERENDINO
PORTRAITS
Halestorm's JAREJAY HALE
Gallow's LEE BARRATT
WHAT DO YOU KNOW ABOUT…?
The Velvet Underground's MAUREEN "MOE" TUCKER
EDUCATION
CONCEPTS
It's All In The Touch Developing Your Sound From Within
STRICTLY TECHNIQUE
Chops Builders Part 4: HAIRTA
ROCK 'N' JAZZ CLINIC
FUNCTIONAL 5s and 7s Odd-Note Groupings for Real-World Applications
THE FUNKY BEAT
Gadson's Groove, Part 2: "Let a Woman be a Women, Let a Man be a Man"
EQUIPMENT
PRODUCT CLOSE-UP
• SONOR Phil Rudd Signature Kit and Danny Carey Snare
• MEINL M-Seires Cymbals
• GEORGE WAY Aero, Hollywood, and Studio Snares
• LATIN PERCUSSION Rio Brazilian Percussion Line
GEARING UP
Shakira's Brendan Buckley
Avirl Lavigne/Gavin Degraw/Regina Spector's Rodney Howard
ELECTRONIC REVIEW AUDIX FP5 and FP7 Drum Mic Packs
New and Notable The Coolest Items From NAMM 2010
DEPARTMENTS
AN EDITOR'S OVERVIEW
It's Personal by Michael Parillo
Readers' Platform
Ask a Pro: Max and Jay Weinberg Electronic Gizmos
It's Questionable
• Mysterious Slingerland Kit
Showcase
Featuring Drum Market
Critique
Backbeats
• NYC Winter Jazzfest
• Sabian Live 2010
• 2009 Groznjan International Percussion Camp
• Progpower USA X
• Jake Hanna In Memoriam
and more!