Cupcakes Of Hank & Cupcakes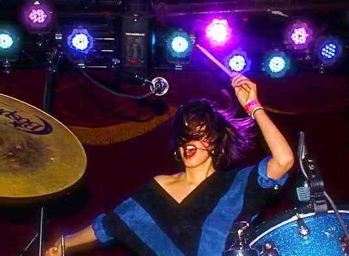 Hey, bangers around the world! I'm Cupcakes (that's right), singer and drummer of raw-pop group Hank & Cupcakes. We arrived in New York a year and a half ago and have been playing pretty much non-stop ever since. We're a drums & bass duo. Hank is the bassist and pedal man. I call him "The Alchemist." You won't believe the amount of sound this guy can produce until you see him in action—I sing and play drums left-handed, standing up at the front of the stage (a sound technician's nightmare!). We want to inspire people, make them dance, and turn them on—not necessarily in that order.
We started Hank & Cupcakes about two years ago in Tel Aviv, which is where we're originally from. We started the band because we were creatively thirsty for something new. We had just gotten back from Cuba, where we'd been studying drums for six months, and decided to wrap things up and move to New York. We never planned on being a two-piece; it happened by accident. We figured we should get a tight rhythm section before recruiting more musicians once arriving in NY, but got so turned on and so deeply into it that we started rehearsing every day (have been ever since), and within a few months the music sounded full and complete with only bass and drums. Being a true two-piece (no computers or pre-recorded tracks) is very challenging, and we love it. A new song can take us as long as three months to finish—we're perfectionists and get down to nitty-gritty details when working on an arrangement. (Yes, we're sick, but what's normal anyway?!)
I didn't always play standing up. Before starting Hank & Cupcakes, I was playing with other bands in a seated position. When we started H&C, I was singing and drumming at the same time and found it hard to get my vocals out with enough power, so one day I decided to play the rehearsal standing up to see how it felt. Well, it felt great! When I play standing up, I can move, dance, and have a freedom I never had when sitting down. My style is simple and hard. It feels kind of tribal to me; I'm definitely not into technical, show-off stuff. That bores the hell out of me. I'd much rather play one sharp snare hit or one fat kick hit than complicated fill-ins. Advertisement
I started playing the drumset at the relatively late age of twenty. I studied classical piano for six years when I was a child, and I always loved to sing. When I was eighteen, I discovered a beach in Tel Aviv called The Dolfinarium, which had drum jams every Friday. About 200 people would gather spontaneously, playing djembes, darbuka, even empty beer bottles with sticks, and jam out while drinking anisette and watching the sunset. I felt like I had just stumbled out of reality into a wild alternative world. That day there was a guy at the jam playing a big African drum with two big sticks. He must have seen how drawn I was (well, I kept moving closer and closer to his drum!) and eventually asked me if I wanted to play. I readily accepted his offer and grabbed the sticks. From the moment I swung my hand up high and landed in on the skin, I was in heaven! I came back to that beach every night that entire summer to jam out with people, and that's how I first got into the world of bang.
Forward to 2010! A lot of really exciting stuff has been happening with Hank & Cupcakes. We just got back from touring the U.K. and Israel (which was a blast) and are preparing for our big EP release. Then we're heading back to Tel Aviv to play at a huge festival with the Pixies, Placebo, Gorillaz, and more. This is going to be the biggest show we've played so far, and we're super exited. I'd love for you fellow drummers to check out Hank & Cupcakes, and I hope you dig it as much as I do! Thanks for taking a few minutes to get to know me.
ROCK ON!
xx
Cupcakes
For more on Hank & Cupcakes, go to www.hankandcupcakes.com or www.myspace.com/hankandcupcakes. Watch the band's videos at www.youtube.com/watch?v=BeGxkW9-QHQ&feature=related and www.youtube.com/watch?v=iYPCL6gj4p8. Advertisement