Adam Falkner of One eskimO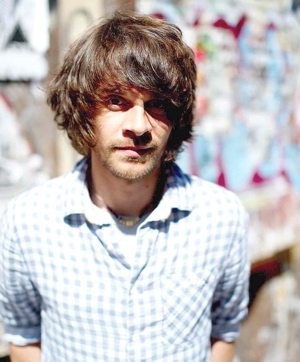 Hello, Modern Drummers! I'm Adam Falkner. I play drums and percussion in One eskimO. I'm from London, England, but for the last year we've been over here continuously touring the States.
Like many of you, music is one of my earliest memories—it has shaped who I am, and I've made it my living too; it's the only thing I've ever done, and I feel very fortunate in that it's allowed me to travel the world and forge firm friendships while doing something I love. Every time I sit behind a drumkit I'm genuinely excited to be there.
What I enjoy most are those moments that take you by surprise during a gig or session. You can't predict it, but something happens when everyone's locked in with each other. There's an unspoken, profound communication between everyone on stage, where you suddenly feel "inside the music." It's an indefinable exhilaration that reminds me that I love playing with great musicians, and hopefully this energy transfers to the audience as well. I guess it's always worth remembering that music is fundamentally about communication.
One thing I'm sure of is that there are a million fantastic drummers out there, and in an ever-changing music industry I'm very lucky to have a career. So I try never to become complacent; everyone knows plenty of amazing musicians who are struggling. It's a strange pursuit that takes me to so many places I'd have never seen. (I'm currently writing from a van driving through spectacular views of the canyons in Utah.) There are the obvious ups and downs that are inherent in such an itinerant lifestyle, but I hope to continue to do this as long as the ups continue to outweigh the downs—which they definitely do! Advertisement
It's hard to say how this all began for me, as I'd never considered doing anything else and had no backup plan. But I found early on that the power of "yes" is undeniable. I've said yes to many seemingly inconsequential gigs that have then led on to other things, and so it goes on. Like life in general, you're constantly presented with options like tributaries in a river, and you just try to navigate them as best you can.
I'm no dazzling technician, either, but I've always tried to approach everything I do as a musician who plays drums, and not a drummer who plays music.
When we began One eskimO, we abandoned the drumkit entirely and started with the question, "How do we actually want the music to sound"? We knew we wanted a woody, subby, tribal feel, covered with a warm blanket of pads and synths, so we avoided starting with the usual drumkit/electric bass/electric guitar setup, as that would automatically dictate much of our sound, rather than the other way around.
Instead, I found a large cajon that forms the core of my sound, which I play with brushes that I adapted to achieve the sound I wanted to create. I play a Stomperine (www.baskey.com/new_site) with my left foot, which is a device I invented so that I could play single notes or 16th notes in the same way you would do holding a tambourine. I trigger samples and play a small bass drum with my right foot. I also trigger lots of samples on a sample pad mounted on the bass drum, and have a couple of cymbals and a melodica. I occasionally use a snare drum with the snares off and a floor tom, but nothing more than the songs dictate. Advertisement
I generally play simple repeated passages that help contribute to the trance-like feel we try to create on stage. The lineup also consists of a nylon acoustic guitar with occasional additional effects, and a fretless acoustic bass.
It's been a rewarding approach, not only sonically but also because it's meant I've had to learn to play an unorthodox setup that is quite different from playing a normal kit. It was rather like riding a unicycle at first, but over time it feels entirely natural to me now. We always wanted to make a bigger sound than a four-piece band, so the ability to multitask was essential. Our bass player, Jamie, often plays flugelhorn at the same time, and our guitarist, Pete, also triggers samples with his feet. This makes for some passages of intense concentration for us, but ultimately it's extremely fun—and let's not forget, that's the reason we all do this, isn't it?
For more on Adam Falkner and One eskimO, go to www.oneeskimo.com or www.facebook.com/oneeskimo. Photo by Phillip Angert.