Patrick Keeler: Future-Retro Brilliance With The Raconteurs And The Greenhornes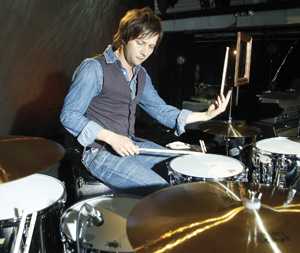 The term "supergroup" is thrown around quite often these days. Take a few awesome and noted musicians, have them record some killer songs, and…POOF… supergroup is born. The one thing that all supergroups have in common is that the drummer is usually incredible, but is somewhat placed in the shadows behind the musicians in front of him on and off stage. The Raconteurs' retro-tinged garage rock sound would not be nearly as compelling and fresh to listen to, with or without Jack White center stage, without Patrick Keeler manning the drums.
As described in the October 2008 issue of MD, Keeler's "tasteful yet explosive" style was cultivated as a member of the Greenhornes, the Cincinnati-based garage combo he started in high school—and still maintains—with Raconteurs bassist "Little" Jack Lawrence.
Keeler started like most drummers do: playing on a pillow and then eventually woodshedding rudiments until graduating to a drumset (in his case, a nine-piece Tama with two 24″ kick drums). In middle school and high school the drummer became active in marching band and in stage band, where he met future members of the Greenhornes. Advertisement
For several years the Greenhornes gigged around Detroit and Cincinnati, eventually crossing paths with Jack White's as-yet-unknown duo the White Stripes. After that band got big, White brought Keeler and Lawrence in to play on the Loretta Lynn album he was producing, Van Lear Rose, which also featured the engineering talents of Brendan Benson. (Benson had also been playing around Detroit at the time, and had helped produce a Greenhornes record.) Soon the four musicians were officially calling themselves the Raconteurs, and have since released two albums, Broken Boy Soldiers in 2006 and Consolers Of The Lonely in 2008.