Ekotren's Frank Jargiello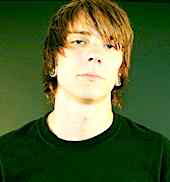 What's up, Modern Drummer readers. I would first like to thank Modern Drummer for giving me the opportunity to write this blog. My name is Frank Jargiello, I'm from Scranton, Pennsylvania, I'm twenty-one, and I've been playing drums since I was fourteen. My first band was called Hope Fails You. We were together for about two years and we played all around Scranton and opened for a lot of national acts. Then in May 2009 I got the opportunity to play with the band Ekotren, who has toured the country many times with some awsome bands and put out a full-length CD called Light The Fire. I took advantage of the opportunity and got on a plane and flew to Ft. Myers, Florida. Since I've joined Ekotren, we've put out a new EP called The Confessions Of Gladys White and toured the country. We will be going back on tour in May, and we plan on keeping the ball rolling.
I am self-taught and I started playing on five-piece Tama kit with only a ride cymbal. Once my dad saw that I wasn't just banging on it and that I was actually learning songs, he bought me a set of cymbals. My first time ever plying in front of people was in high school at the vo tech. I did a solo, and my drums fell over. Ha ha! Then two days later I played for my high school's drama fest. Ever since then I was addicted to playing live.
Once I started playing in my first band, I knew this was what I wanted to do for the rest of my life. The first national bands I ever opened up for were Ill Nino, Droid, and Ekotren. I was a big fan of Ekotren since they put out the Tables Have Turned EP. Once my old band broke up, I had no intension on being in a new band. Then I got like five texts that told me Ekotren needed a drummer and that I should try out. I didn't think I would get the spot, but I messaged them and put a couple videos online for them just to see what would happen. Once I got the okay to fly down to try out and play a show, I packed up and moved out of my apartment and jumped on a plane. I knew they were cool guys from when we hung out at a couple shows, but I really didn't know what to expect. Advertisement
These guys are awesome, though. Sheldon is probably the funniest person I have ever met, I lived with Keith for a while and we were bros, and Derek and I are from the same neighborhood, so we have a lot in common even though we didn't know each other. We all love to play live, hang out with fans, and have a good time. You should all come check us out when we are back on tour in May—you won't be disappointed.
I would like to thank Iki at Soultone cymbals, Jason and Dom at Sik World clotheing, Modern Drummer for giving me the opportunity to write this blog—it's an honor, and all of our fans for the support. You guys are the best.
For more on Ekotren and Frank Jargiello, go to www.myspace.com/ekotren or www.ekotren.com.