Travis Barker: Blink-182's Man About Town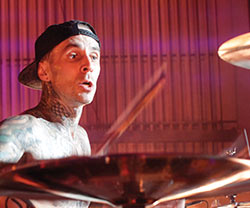 Travis Barker was born on November 14, 1975 in Fontana, California, and began studying drums at the age of four. Though he's largely known as a high-energy punk drummer, Travis in fact studied jazz and was exposed to many different styles of music early on. While in high school, Travis played in the jazz ensemble and marching band. Further experience as a rock drummer came in a few early bands such as Feeble, the Suicide Machines, and the Aquabats.
In 1998, the Aquabats opened for Blink-182, after which Blink asked Barker if he would like to fill their drum stool. A few months later, he was asked to join the band full-time. Barker went on to record three hit albums and tour the world with Blink, until February 2005, when the band took an extended break. Travis used the time to work with his hip-hop/punk band the Transplants, the electronically tinged project +44 featuring Blink bassist Mark Hoppus, as well as pop stars like Black Eyed Peas, Pink, and Rihanna. Away from music, he has starred in his own reality TV show on MTV, Meet The Barkers, and founded several companies, including fashion accessory line Famous Stars And Straps. In 2008 he survived a plane crash that took the life of four individuals, including his assistant, Chris Baker. At the fifty-first Grammy awards, Blink-182 announced their return, embarking on a tour of the States and planning for an upcoming studio album.
In his first MD cover story, in August of 2001, and then again later in '04, Travis defended his drumming style as more than just what the fans were used to hearing. "I love punk rock drumming, but there is so much more stuff out there that can influence your playing, like playing shuffles. One thing inspires the other, and that's what's great about learning different styles. One time someone sent me something in the mail that said I was 'the best punk drummer of the year'—and I'd scraped the word 'punk' off." Travis then laughed and added, "Don't you dare put punk right next to my name! I don't think of myself as a punk drummer." Advertisement