Seven Antonopoulos of Leaves' Eyes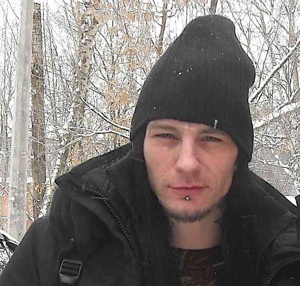 Hello, all. I would like to start by thanking everyone at MD for the invite to blog a bit about what I've been up to. So after recovering from the NAMM show (that's a long story in and of itself), I had a few weeks off at home in Stockholm, just rehearsing by myself and working on some tracks I'll be incorporating into upcoming clinics. Always good to stay in shape.
Following that I was in Stuttgart with my band Leaves' Eyes. I tracked drums and percussion on a couple tunes that will be included on the digi-pack version of our latest CD, Njord. One track is a typical LEs balls-out rocker. On the other tune, an acoustic version of "Irish Rain," I played cajon with some shakers and tambos. I really love the cajon. I used it quite a lot on the last Atrocity record.
We recently hired a new guitar player, Zander Van der Meer from the Dutch band Cypher. Super cool guy, and an amazing player. I'm stoked to have him. Luckily we had a couple days to run through the sets before his first show. He had a ton of material to learn because the Moscow show had Leaves' Eyes and Atrocity on the bill. (Same musicians in both bands, different singers.) Advertisement
That brings us to the travel and performance aspects of the show. It started off like most one off shows, dealing with the promoter, venue manager, endorsers, tour manager, techs, etc. I have to say, as much as I love snow and cold weather, it sometimes throws a monkey wrench into touring this time of year. My flight to Germany was delayed twice, but it just comes with the territory and I don't get surprised anymore. (LOL)
My bass player, Alla, is Russian and was born in Moscow. So you can imagine how much we were looking forward to this show. We made it to Moscow with no problems, and I ended up having a couple beers with the crew guys at the hotel bar, pretty mellow. The next day started early with a noon lobby call. Got to the venue, had lunch, and got most of the press out of the way. I feel fortunate that we have Tom Tom, our drum tech and monitor engineer. Although the kit that was provided was killer (DW custom with maple finish), Tom Tom was in hell dealing with six in-ear packs that were receiving Russian radio weather reports! (LOL) On a side note to younger players, when touring internationally it's important to be aware of the fact that power voltage and wireless frequencies differ from each other in different parts of the world. It's pretty easy to blow up that drum machine or in-ear unit you just paid through the teeth for. Needless to say, the in-ear issue was resolved and it was business as usual.
Next thing ya know, it's dinner (huge chunks of steak in a bowl of au gratin potatoes!) and the pre-show meet & greet. I really dig this part of the day on tour. It's always great to see how our music affects people. The multiple bottles of vodka I received as gifts are a testament to the warmth and generosity of the Russian fans! Our singer Alex actually got a gold watch. Liv received enough roses to accommodate any wedding! (LOL) Good times. Advertisement
The Atrocity set list consisted of material from the Werk 80 I and II records. (Those records feature '80s covers done in a heavy, industrial way.) The vibe onstage was good, and we all thought Zander did a hell of a job for his first show. For me it's kind of different playing the Werk 80 tunes. I feel like there's less self-imposed pressure when playing tunes that aren't your own. It's always fun for us, as well as the fans playing and singing classics we all grew up with.
After a twenty-minute break, we take the stage again around 11:00. The Leaves' Eyes set list included the older singles "Farewell Proud Men" and "Elegy," as well as some of my faves from the new record, "My Destiny," "Ragnarok," and the opener, "Njord." Again, I can't tell ya how cool it was to see and hear the crowd sing every word of the set. Killer crowd for sure!
After a quick shower, it was about time for us to participate in a very special Russian tradition—vodka! (LOL) Which I did. Ha ha! In all seriousness, after the show we had a great time hanging out and spending some time with the fans. I had a blast. Thanks to the promoters, Sergey and Eugene, for making it all happen! Advertisement
As usual, I wish I could of seen more than the airport, hotel, and venue, but that's how it is on these kinds of fly dates. So now we come to Sunday morning at the airport, when we come to find out that all Lufthansa pilots are beginning a strike/walk-out for the following day, which meant the cancellation of most flights departing that day. Again, these are the kinds of things that are part of touring. Luckily we were all re-routed and made it home that day.
I think I can speak for the whole band when I say that all in all we had a really good time, and we look forward to playing there again!
Thanks, y'all!
Seven Antonopoulos