Pete Lockett: Horacio Hernandez And Bill Bruford Give Props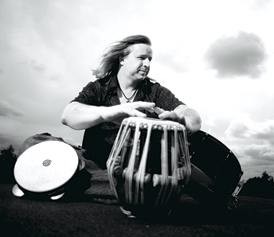 (May 2010 Issue)
The May issue of MD, out now, features an in-depth conversation with multi-percussion master Pete Lockett. In this online exclusive, two drumkit legends, Horacio "El Negro" Hernandez and Bill Bruford, talk about their collaborations with Lockett. Hernandez and Lockett played together for the first time at the 2009 Groznjan International Percussion Summer Camp in Croatia, in an stunning improvised duet that was one of the event's highlights, while Bruford played on the 1999 album One by Pete Lockett's Network Of Sparks, which is being reissued on the now-retired prog drummer's Summerfold label.
Horacio "El Negro" Hernandez
Coming from an Afro-Cuban background, I'm always very eager to play with other percussionists. Pete Lockett is not just a master Indian percussionist. He also has a Western music background that is very together. I would call Pete a world percussion master, with a vast knowledge of rhythm in general.
It's always exciting to have the surprise element of playing with somebody for the first time without any kind of rehearsal. It was very inspiring to play Afro-Cuban rhythms along with the sound of the tabla. And Pete knew how to swim in our waters. He gave the rhythm a brand-new sound. And it gave me a brand-new way of hearing percussion inside my own music. It's a very different way of phrasing, and it's a totally different sound that we've never had in our music. Advertisement
Pete and I are now going to collaborate and work out some new rhythms, because you can see that there is a very vast rhythmic palette to work from, not just from the sound of the instruments, but because of Pete's rhythmic knowledge. It's a great demonstration that time is universal. No matter where you come from, the pulse of the music is always the same.
Bill Bruford
You're never going to meet anyone quite like Pete Lockett, with that kind of ability and energy. He's a force of nature. He's been taken to the bosom of some of the highest-caliber classical Indian percussionists, who want to share their art form with him.
Pete is persistent. He deserves all the success he has. His career has really rocketed since 1998, when he and I recorded [the One album by] the percussion quintet Network Of Sparks. I believe Pete and I are kindred spirits in that we both stem from the idea that modern pop rhythms in the West are rather dull with 2-4, up-down. Everything attached to that is cosmetic, but any way you skin it, it remains 2-4. Pete knows that life can be so much more interesting for us drummers in the West. Once you see the musical light from the point of view of someone like Pete, who has a very advanced sense of Indian rhythm, there are all kinds of interesting things you can bring to Western pop music. Advertisement
Pete does big movie scores. When you see James Bond running through a Vietnamese marketplace, knocking all the vegetable stands over, you're hearing Pete in the background. He knows the origin of the instruments and finds the music of other cultures much more interesting than ours. And I have to agree. If I tried to do anything at all in my drumming career, it was to try to bring other things into dull pop. Pete and I come at it from different angles, but we are both aware that there are some wonderful rhythms out there.
What I also love about Pete is that he is the ultimate world traveling, one-man percussion lesson/concert. In other words, for readers who don't know of Pete's talents, he can do a two-hour solo show, no problem, with lights, unbelievable electronics, and audio backdrops. He could easily do a two-hour lecture on Indian vocal rhythms and clapping. He could do a two-hour lecture on tabla. He can thrill anybody in any town square pretty much anywhere in the world with kanjira, which is a small instrument. He has the whole frame-drum thing down. He has the tabla thing down. He plays rock drums like crazy. He's released books on rock drumming and now has released the amazing Indian Rhythms For Drumset educational package. He's a really valuable character, doing really valuable work.
I think in twenty-five years' time, kids will be learning Indian classical rhythms and learning to vocalize them and clap in the Indian tradition as much as they'll be doing Western drum rhythms for their basic drum instruction. I think the world will be a whole lot better place as a result of that. And I think everybody will say, "Oh, I remember Pete Lockett started all this." Advertisement
Read more on Lockett in the May 2010 issue of MD, and check out Pete's Web site at www.petelockett.com.