Artist Vs Poet's Joe Westbrook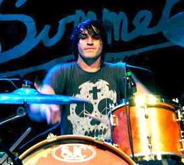 Hey guys, its Joe Westbrook from Artist Vs Poet. I've never written one of these blogs so I guess I'll start by telling my history with drumming. At the age of eight, after a good while of nagging my parents about it, I started taking drum lessons at a Brook Mays Music store in Dallas, Texas. I got my first drumset, a bullet silver Tama Rockstar Custom DX, from one of my dad's friends. Day after day I practiced rudiments and cover songs on that kit. After a few years of lessons and playing in the percussion section of my middle school band, I joined my first pop-punk band. (Nobody needs to know the name…it's that bad, ha!) We played for a year or so, then the band broke up and I started a new band, which after a few years turned into Enter the Collector. This band is where I learned more intricate beats and fills involving double pedal work, which I still try to work into the stuff I play now.
After ETC fell apart, our old singer, Tarcy, asked me to play drums in his new project, Artist Vs Poet. We began practicing as a full band only a week before our first show, which was a festival in Plano with over 3,000 people in attendance. I've now been touring and recording with the band since February of 2007. We ended up signing to Fearless Records after our first small national tour. In early 2008 I began talking about a new kit with Brian and Mike at SJC Drums (which are amazing—you can see my current gear list at the bottom of this blog). We've released two EPs to date and just released our first full-length, Favorite Fix, on March 2. We recorded half of the album with Zack Odom and Kenneth Mount in Atlanta, then flew to Los Angeles to do the other half with Mike Green. Both were amazing experiences that have expanded my drumming arsenal. My favorite songs on Favorite Fix are the ones that are the most fun to drum along to ("Giving Yourself Away" and "Broke But Not Broken"), which you should check out when you grab the album (*wink*!).
For the future I have a pretty full year of drumming that includes taking me overseas to Japan and playing the entire Vans Warped Tour. It's been many years of hard work, many broken fingers, and countless bloody drumheads, but it's the greatest job in the world and I am very grateful to have it. Advertisement
My current equipment:  SJC Custom Drums 18×22 kick, 10×12 rack, 16×16 floor tom, all in antique brown swirl, and a 6 1/2×14 snare in vintage white marble. (The kick's hoops match the snare drum's vintage white marble.) The hardware is brass and looks beautiful!
Thank you, Modern Drummer, for letting me do this blog. See you soon!
For more on Joe Westbrook and Artist Vs Poet, go to www.myspace.com/artistvspoet.