The Greats: Jeff Porcaro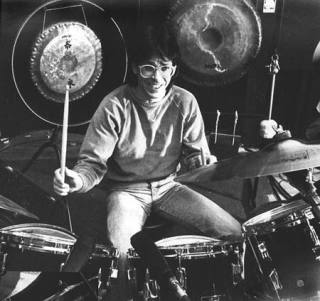 Jeff Porcaro was born on April 1, 1954, in Hartford, Connecticut. After moving to California with his family, he took an interest in drumming at an early age and began studying with his dad, Joe, who remains a well-known studio musician and teacher. World-renowned for his enormous list of sessions, Jeff Porcaro is also remembered as a co-founder of Toto, a band comprised of six of the most in-demand studio musicians in the world.
Jeff's star rose quickly, and he decided to leave high school during his senior year and join TV stars Sonny & Cher for a run in Las Vegas. Later Jeff would tour with Seals & Crofts, Boz Scaggs, and Steely Dan. But it's Jeff's studio work that drummers still obsess over. Among the hundreds of albums he played on are Boz Scaggs' Silk Degrees (featuring the drummer's signature beats on the tracks "Lowdown" and "Lido Shuffle"), Dire Straits' On Every Street, Michael Jackson's Thriller, Elton John's Jump Up, Don Henley's End Of The Innocence, Warren Zevon's Excitable Boy, Rickie Lee Jones' self-titled debut, and Bruce Springsteen's Human Touch. A partial list of the many artists he played with includes Bonnie Raitt, the Bee Gees, Jackson Browne, Michael McDonald, Lowell George, Hall & Oates, The Alessi Brothers, Etta James, Joe Cocker, Nils Lofgren, Manhattan Transfer, George Benson, Larry Carlton, Paul McCartney, Pink Floyd, Elton John, Peter Frampton, America, and Stanley Clarke.
Tragically, Jeff Porcaro suffered a heart attack and died on August 5, 1992, after an allergic reaction to a pesticide he was using in his yard. (An autopsy revealed a serious heart condition that had been previously undiagnosed.) A memorial concert was held at the Universal Amphitheater in Los Angeles in December of that year, with an all-star lineup that included many of the legendary musicians Jeff had recorded with. His many fans will never forget him or the countless classic records he made. Advertisement