Jarrett Hottman of Before Their Eyes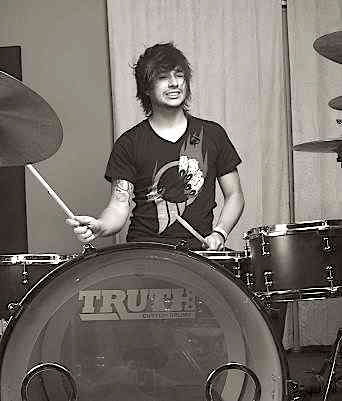 What up, Modern Drummer readers? First off, I would like to thank MD for giving me this opportunity to write a blog. It's an honor and privilege.
I've been playing drums since I was thirteen years old and have been in multiple bands. I'm twenty-three now and I've been in the band Before Their Eyes for three years. We were lucky enough to get signed after our very first show and to tour the U.S various times with some great bands. We are working on getting over to other countries very soon! It doesn't always start off that quickly, though, and it wasn't easy for me!
When I was very young my father was in various bar bands around town. My mother would take me to some of the closer shows so I could watch him play. I would sit down in front of the stage and just watch my dad and mimic what he was doing with his hands. For the longest time I could never figure out why he crossed his right hand over his left hand while playing. After watching me sitting in front many times, my dad asked if I wanted to learn. At this point I was probably nine or ten years old. I had been playing tennis since I was five years old, so my dad figured I would have the hand-eye coordination to play the drums. It didn't turn out that way, however. He tried and tried to teach me how to play but I just never caught on. But in fifth grade I started in the band program as snare drummer. After getting the hang of the snare and learning to read music, I decided to try learning drums on my own. My dad always had a black seven-piece Pearl kit. It was a huge kit, so I knocked it down to a five-piece and then started practicing. Then when I was thirteen I started my very first band, Slipt-n-Fell, with friends of mine who were all learning to play. We got pretty good at playing Blink-182, New Found Glory, and Offspring covers.
During high school, I stopped playing the drumset for the most part but continued in marching band. I didn't ever really take lessons on the full kit from anyone other than my dad, but I realized how much reading and playing snare drum has helped me on the full kit. After high school, I started a band called Memory Meets Tragedy. We played shows all around Ohio and would often play with a band called the Drama Summer (which included two members of Before Their Eyes). The Drama Summer broke up and Nick wanted to start a new band, so he asked if I would start a band with him. At the time the band was a side project, but we wrote two songs, recorded them, and posted them on MySpace. From there we solidified our lineup as you see it today, and have been touring since. Advertisement
I still look back and think about the first concert my dad took me to when I was twelve years old. It was a Kiss concert, and I knew right then that there was nothing else that I wanted to do but play drums in front of people and tour the world. I thank my dad and family for being so supportive of the lifestyle I have chosen for myself. Without the love and support from them, I would simply not be where I am today. All I can say now is, Before Their Eyes is here to stay, and be on the lookout for our CD Untouchable, dropping on March 9.
I would also like to thank the amazing Tim at Truth Drums (for making the perfect drumset for me), Silverfox sticks, and Dream cymbals. Thanks everyone for reading!
For more on Jarrett Hottman of Before Their Eyes, go to www.myspace.com/beforetheireyes.