The Naked Heroes' Merica Lee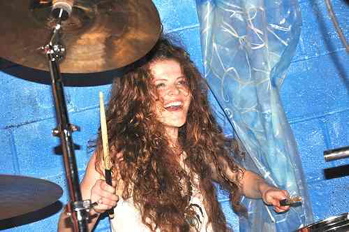 Oh, hey ya'll, it's Merica Lee from the Naked Heroes—a foot-stompin', ass-shakin', rawkus rock 'n' roll band from Brooklyn, New York. We recorded our album 99 Diamond at Deadverse Studios in Union City, New Jersey, and it was produced by the mighty Dean Rispler and engineered by Alap Momin. We recorded it almost entirely live with no headphones. The guitar amps were in the same room with the drums, and my partner George Michael Jackson was singing live while he was rockin' the guitar. The vibe was amazing, and we had a P.A. in the room so we could hear the vocals.
On the record I played a rare 1970s Vistalite kit, (nicknamed "Tequila Sunrise"), except for the kick, which was a DW 18×22. I was so excited to use the Vistalite since John Bonham used an orange double bass Vistalite kit on tour with Led Zeppelin! Rock 'n' roll rumor has it that Bonzo ran out and bought this particular kit after he saw Carmine Appice playing it. Holy smokes, two of my heroes!
We have a limited-edition vinyl picture disc 12″ record coming out in April on Drug Front Records. All the records will be hand-numbered by us and will make you the envy of all your friends. Ya dig? Advertisement
As far as my gear goes, my awesome rocker brother bought me a Mapex kit when I was twenty-two. It's cheap, white, and dirty, sounds good, and I still use it today!
Sit low, stay cool, and keep in the pocket!
For more on Merica Lee and the Naked Heroes, go to www.thenakedheroes.com. Download 99 Diamond for free at www.powerloadrecords.com. And for vinyl go to www.drugfrontrecords.com.