Jason "Malletman" Taylor Blog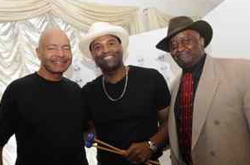 Hello, MD readers! My name is Jason "Malletman" Taylor. I'm a vibraphonist and protégé of the late, legendary Lionel Hampton. "Hamp" taught me how to swing my thing on vibes!
As we begin 2010, I'm feeling reflective and want to share an experience that was definitely one of the highlights of 2009 for me. I'm really serious about my mission of keeping real music alive. Part of this is the responsibility I accept when it comes to teaching and mentoring others. In addition to the keyboard percussion clinics I conduct at various schools and churches, my concern about the way music programs are being eliminated or under-funded at schools throughout the country gave me an idea. I wanted to create an event where kids, teens, and young adults interested in percussion could be taught by leading professionals for a day. That's how I started the Slammin' Percussion Symposiums.
The Slammin' '09 Percussion Symposium was held on September 26 in Wayne, New Jersey. My guests, Chester Thompson (Phil Collins, Genesis, Frank Zappa) and Bernard "Pretty" Purdie (known as "the world's most recorded drummer"), joined me to teach clinics. Man, those cats are both from Baltimore and are masters at what they do. Maryland knows how to produce some drummers! I will never forget how it felt to watch Bernard and Chester blow everyone away with their teaching and playing. The most memorable part of the day for me was when I played with both of them after Chester's clinic. I'll never forget that! I'm sure you have all experienced a gig like that, where you wanted to just keep playing and playing.
The room was filled with people of all ages. I mean, all the generations were represented. The drummers' ages ranged from four to seventy. That's right, we had a four-year-old kid there who can play. So now I can't wait to see what happens this year. I'm not sure if anything can top that, but if it does, I'm ready!

For more on the Slammin' Percussion Symposium and Jason Taylor, go to www.malletsplace.com.