Dave Abbruzzese: Pearl Jam And More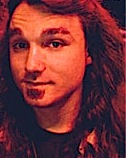 Pearl Jam was months into their first U.S. tour, their second name, and their third drummer before most people had even heard of them. Their debut album, Ten, rested idle on retail shelves for nearly a year until songs such as "Alive," "Even Flow," and "Jeremy" became part of America's pop-culture consciousness.
The rest, as the say, is well-documented history. Ten went on to turn platinum five times over, riding high on Billboard magazine's charts throughout 1992 and refusing to fade away well into '93, making Pearl Jam rock music's definitive success story to that point of the decade.
Dave Abbruzzese, for his part, had no idea he was about to step into stardom when he hopped in his pickup truck and drove from Dallas to Seattle to join a fledgling band with only their music to speak for themselves. Then again, the music was all Abbruzzese needed to hear. Advertisement
Meanwhile, few realized that Abbruzzese wasn't even on Ten. (That would be drummer Dave Krusen.) The door opened for Abbruzzese when Matt Chamberlain, a friend and hired pro who temporarily filled the drum stool, recommended him for the job. Dave played with the band as they rocketed to fame on the heels of Ten's massive success, appearing on MTV Unplugged with them and on their second album, Vs.
Abbruzzese was asked to leave Pearl Jam in 1994 due to personality differences—Dave didn't quite fit in with the band's "anti-stardom" stance, and disagreed with them on their famous battles with Ticketmaster—and his last role with them was sharing drum duties with Jack Irons on their third album, Vitalogy. Later in 1994 he appeared on the Green Romance Orchestra's self-released Play Parts I & IV, which he produced, played several different instruments on, and contributed songwriting to. (The album was reissued more widely in 1997 as Play Parts 1 & 5.) In the years since, Dave has kept a relatively low profile, appearing on albums by HairyApesBMX, Steve Salas, and Bernard Fowler. It speaks volumes that Dave's warm character and powerful playing have left legions of Pearl Jam fans pulling for him to make a "second coming" at the top of the charts—or at least land in a consistent and artistically successful musical situation.