Thomas Pridgen: Buzz Inspiring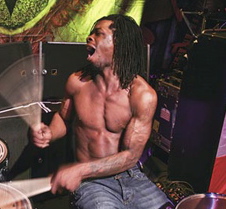 Thomas Pridgen has inspired more buzz among Modern Drummer readers than almost anyone else working today. Even diehard Mars Volta fans were unprepared for the frenetic wall of drumming Pridgen produced on the band's 2008 album The Bedlam In Goliath. Blowing through blistering 32nd-note full-set combinations, stunning single-stroke rolls, and blazing single bass drum patterns (sounding like double bass), Pridgen maneuvers tunes like "Wax Simulacra" like a crime fighter whacking criminals in Grand Theft Auto.
At age nine Pridgen won the Guitar Center Drum-Off; at age ten he became the youngest drummer to ever be awarded a Zildjian endorsement; and in 1999, at age fifteen, he was the youngest musician to ever receive a full scholarship to the Berklee College of Music. Pridgen eventually recorded with trumpeter Christian Scott and guitarist Eric Gales, and he recorded Mars Volta guitarist Omar Rodriguez-Lopez's solo release Calibration (Is Pushing Luck And Key Too Far). Pridgen has also worked with gospel acts the Kenoly Brothers, Martin Luther, Kirk & Joni Bovill, and The G.M.W.A. Mass Choir, and appears on Juliette Lewis's album Terra Incognita, produced by Omar Rodriguez-Lopez. Pridgen left the Mars Volta in late 2009.