Cole Marcus: Blog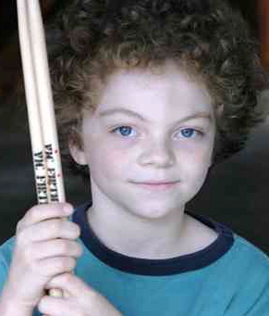 Hey, everyone, this is Cole Marcus. I recently turned eleven years old, and I've been playing drums professionally since the age of three. I actually started playing by myself when I was ten months old. Sounds weird, but it's true! Anyway, I love what I do and really feel blessed that I can in some small way inspire others.
I was born with a gift called perfect pitch, and that has allowed me to play drums melodically and really get particular about tuning and different intonations of the drums, cymbals, and percussion. I also play a lot of piano and have been composing and collaborating with other artists, which is way cool.
My first concert was the day I turned three. I played at my church with a gospel band and background singers. Then, still age three, I competed in a Guitar Center Drum-Off against all adults and placed fifth. I was invited to go to a Dave Weckl clinic when I was almost four, and Dave let me sit in, so I played a long solo. It was an awesome experience! Advertisement
A few months later, one of Dave's cymbal reps called and asked me to come perform at their booth at the NAMM Show. So, when I turned four, I played at the NAMM Show and landed full endorsements with Mapex, Zildjian, and Vic Firth. After that, NBC invited me to perform on America's Most Talented Kids, and I won. After that I appeared on the Today show and a whole bunch of TV shows and concerts all over the U.S.
When I was eight, a major Japanese network flew out and followed me around for a few weeks, filming a documentary about me called The Power Of Memory. After that aired in Japan, I was invited to go on tour there. I did a bunch of concerts and all of the popular TV shows. Japan is the coolest country ever!
I'm working toward getting an album together and have been working with jazz pianists like Taylor Eigsti, Jay Oliver, Haakon Graf, and David Benoit. In fact, I've just been chosen to perform with David and his symphony orchestra and jazz ensemble for the 2010 season—I'm pretty stoked about that! Advertisement
I am also one of the judges for The Next Great Drummer and have been performing at jazz festivals all over the place with the All Star Band, which is Teddy Campbell, Felix Pollard, me, and a bunch of amazing musicians.
I'll be performing again this year at Winter NAMM, opening for guitarist Orianthi, and I'm very excited to be featured in the new coffee table drum book Sticks 'N' Skins.
I have a new clothing sponsor called Not Of This World. If you go to this link, you can get a 10 percent discount on their awesome products: www.c28.com/colemarcus
Thank you for letting me share with you! And, something to think about: Don't ever stifle the genius that God created inside of you. You are blessed to be a blessing!

To see one of the many clips of Cole on YouTube, check out www.youtube.com/watch?v=mhq1P1NNmFw or look below.