AM Taxi's Chris Smith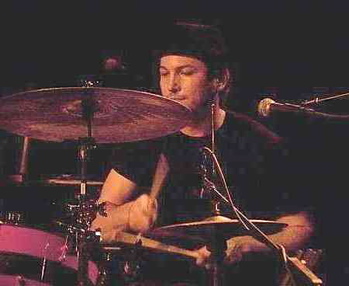 Hello, MD readers! I don't usually blog on the first date, but you seem special. It's pretty cool to be asked to write a blog for moderndrummer.com. Allow me to introduce myself and let you know a little bit about what our band has been up to this past year. I'm Christopher Smith, drummer/backup vocalist for Chicago punk/rock band AM Taxi. I'm twenty-eight years old and have been playing drums since I was thirteen. Chad Smith, Dave Grohl, Tré Cool, Jimmy Chamberlin, and Danny Carey were my main influences when I first started drumming.
Here's 2009 in a nutshell. We signed with Virgin Records in March, toured with Sum 41 in April, played Summerfest in June, recorded an album with producer Mike McCarthy (Spoon, …And You Will Know Us By The Trail Of Dead) in July/August, and toured with Billy Talent in September/October, along with several one-offs in between. We also shot a video for our song "The Mistake" at Double Door in Chicago, and I played Q101's Twisted Christmas with Rise Against. Pretty rad year, I must say. Recording with Mike McCarthy was a cool experience. We did everything live to tape, old-school style, and I got to use some cool vintage gear. I recorded with a 1965 Ludwig kit with those good ol' mahogany/poplar shells and round over edges: 9×13 or 8×12 rack tom and 16×16 floor tom, and we switched between a 14×20 and 14×22 kick. I also swapped between an Acrolite and Black Beauty snare. Man, I love those snare drums!
I'll tell you what equipment I use when playing live, since that's the part I always like to read about. I currently use a custom four-piece Orange County Drum And Percussion kit. Sizes are 20×22, 9×13, 14×16, and 7×14—with all-maple shells. The kit has a horizontal striped lacquer finish that goes red/custom dark purple/red, plus red mini tube lugs. The hoops are black. For the snare I flipped it around and went purple/black/purple, with red hoops and black lugs. Zildjian cymbals: 21″ Sweet ride, 19″ Z Custom crash, New Beat and Mastersound hi-hats. I'm using DW 9000 hardware and a 9000 bass drum pedal. Vic Firth 5A wood-tip sticks and Remo heads. Roc-N Soc-Nitro throne. Random dirty carpet, PBR, Bud Light, and duct tape. So there's the gear, but I'm sure you'd like to know what the hell we sound like, or the gear is worthless. Advertisement
I'm glad I was given this opportunity to introduce myself to MD readers and share with you the band I'm in. I hope to write more blogs in the near future, keeping you up to date with what's going on in the world of AM Taxi. I'm sure 2010 is going to be a crazy year, since our record, We Don't Stand A Chance, is coming out and we're going to be playing all year long. Check out AM Taxi, and keep on drumming!
For more, visit www.amtaximusic.com, www.myspace.com/amtaxi, twitter.com/amtaxi, facebook.com/amtaxi, and www.youtube.com/user/amta.