Alexis Razon of Vinyl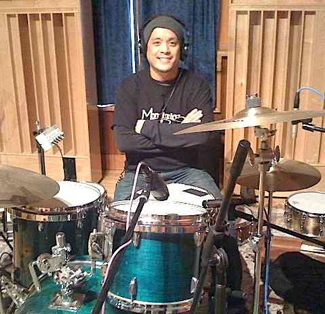 To start, it is an honor to write for an outstanding magazine that caters to drummers and percussionists worldwide. MD is a great resource for the drumming community.
My first introduction to drumming started at ten years old. The age where most kids studied piano, I was drawn to the drums. My first recollection of lessons was with this elderly man in San Francisco whose background was in jazz. Traditional grip and rudiments were his focus. At ten, I was really amazed because when he demonstrated his chops on his Remo practice pad kit, his hands were lightning-quick and precise. I was blown away. Some of my influences growing up were John Bonham, Stewart Copeland, Steve Gadd, Louie Bellson, and Buddy Rich. Later I discovered Elvin Jones, Tony Williams, Clyde Stubblefield, Jabo Starks, and Zigaboo Modeliste.
While in high school, I developed my skills playing with friends and listening to records. It wasn't until college that I began studying percussion under professor Eugene Novotney and later with legendary jazz drummer Eddie Marshall. Since then I've tried to develop my own voice for the instrument. I think this is very important. A way to accomplish this is to play different styles with different people and allow yourself to play outside of your normal comfort zone. My "voice" has grown while playing in several different projects ranging from my local hip-hop group, Calm-o-dee, to my jazz trio, to my mainstay, Vinyl.
I'm based in the San Francisco Bay Area and I've been involved in the music scene here for about fifteen years and teaching for about five. In 1996 I became a founding member of the Bay Area Latin-funk band Vinyl. I've had the opportunity to record and perform with Les Claypool, founding member of P-funk Bernie Worrell, and, of course, my mates in Vinyl. Our latest release is Fog Shack Music Vol. Two, which was produced by Tony Mindel and the Rondo Brothers (Handsome Boy Modeling School, Galactic, Dan the Automator). What's interesting about this recording is that the Rondo Brothers remixed pre-recorded material from earlier sessions and added new sounds to the music. They layered different beats and keyboards over acoustic drums and textured the songs to make them sonically different and current. Music continues to change, and it's great for us drummers to challenge ourselves to grow and become better musicians. Thanks to Modern Drummer and all those who took the time to read this!

For more on Alexis Razon and Vinyl, go to www.vinylgroove.com. Advertisement