Warren "Baby??? Dodds: The World's First Great Jazz Drummer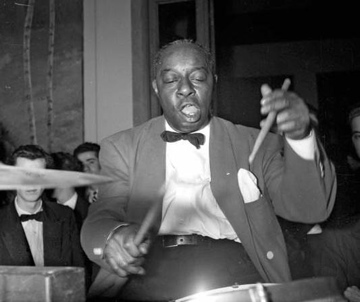 "Dodds was swingin' so much, I was late an entire set. But I couldn't leave. I sat down and just stayed."
—Philly Joe Jones
"Baby taught me more than all the others. He was the first great soloist."
—Gene Krupa
Warren "Baby" Dodds was born in New Orleans, Louisiana in 1898, and studied drums with Dave Perkins, Walter Brundy, Henry Zeno, and Louis Cotrelle. His playing career began with Willie Hightower and Papa Celestin, and on Mississippi riverboats with Fate Marable. In 1921, Dodds joined the famous King Oliver Creole Jazz Band in Chicago with fellow sideman Louis Armstrong, and soon became the most influential jazz drummer of the '20s.
After leaving Oliver, Dodds worked with Freddie Keppard, Johnny Dodds, and Lil Armstrong, and later recorded with Louis Armstrong's Hot Seven. While house drummer at New York's Three Deuces from 1936 to 1939, he performed and recorded with a host of prominent jazz artists including Sidney Bechet, Jimmy Noone, Mezz Mezzrow, Bunk Johnson, Art Hodes, and Miff Mole. After suffering strokes in 1949 and '50, Dodds returned to Chicago and continued to perform there from 1952 until his retirement in '57.
Baby Dodds embodied the spirit and tradition of early military-flavored jazz. His carefully tuned drums were resonant, melodic, and harmonic. While performing at the famed Lincoln Gardens in Chicago, Dodds used a 28″ bass drum, a metal snare, four cowbells, a slapstick, a woodblock, a 16″ Chinese cymbal, and a 10″ Chinese tom-tom. Dodds was the first jazz drummer to extract the full potential of the bass drum by making its rhythmic undercurrent the foundation of the band. His subtle playing was characterized by a smooth yet firm time feel, flavored with crackling press rolls.
Baby Dodds is credited with being one of the first drummers to play breaks and fills between phrases and solos. And though simplistic by today's standards, they marked the beginning of the drum solo itself. Dodds was also one of the first to convert the press roll time pattern to the basic ride cymbal beat used today. And while he adhered to a military style of drumming throughout most of his career, it was his acute sense of pitch, subtlety, and rhythmic inventiveness that bridged the gap between the strict military structure, and the freer, more flowing style that would soon emerge.
Finally, Dodds was among the first to totally interact with the ensemble through changes in patterns and textures. "I was struck with the range and constant shifting of tonal colors Baby displayed as he moved all over his set," said Max Roach. "He continued to vary the sound of his beat according to the soloist."
With a style that has had an impact on virtually hundreds of other drummers since the early '20s, Warren "Baby" Dodds has rightfully earned his place in music history as the world's first great jazz drummer.