Philly Joe Jones: One Of The Greatest Hard Boppers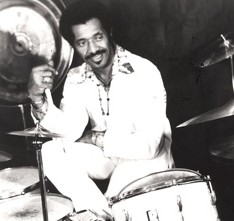 Philly Joe Jones is one of the greatest of the hard boppers. His contributions to the art of jazz drumming are immeasurable. He was a virtuoso with a pair of brushes, and a genius at turning the rudiments into fluent musical ideas. More than any of his peers, it was Philly Joe's time feel that defined the idea of swing in the 1950s. In retrospect, he would prove to be the strongest link in the chain between Max Roach, Art Blakey, and Roy Haynes, and the Elvin Jones/Tony Williams school that was soon to emerge.
Joseph Rudolph Jones was born in Philadelphia in 1923. He developed a love for drums as a teenager, but his study was interrupted when he entered the army at sixteen. When he got out of the service, Joe took a job as a Philadelphia streetcar operator. The job earned him enough money to buy his first set of drums. It also gave him the opportunity to meet drummers like Roach and Blakey, who would ride on Jones' streetcar when they were in town.
In 1947 Joe moved to New York City, where he hooked up with bandleader Tony Scott. To avoid confusion with Count Basie's Papa Jo Jones, Scott would introduce his drummer by saying, "This is the Joe Jones from Philly." Eventually, the younger Jones had his name legally changed to Philly Joe Jones. Advertisement
In the mid-1950s Joe did some big band work, first with Tadd Dameron and then with Buddy Rich. Buddy was fronting his band as a singer at that time, and he'd only play one drum feature per night. Philly Joe played the balance of the show. Wanting to get into the lucrative New York studio scene, Philly Joe started studying with Cozy Cole to improve his reading skills. He became the house drummer for Prestige/Fantasy Records, and did sessions with such artists as Lou Donaldson, Clifford Brown, Lee Morgan, and Freddie Hubbard.
In 1954, Philly Joe joined the classic Miles Davis band that featured Davis on trumpet, John Coltrane on sax, Red Garland on piano, and Paul Chambers on bass. Between 1954 and '58, Philly Joe's solid drive, masterful brushwork, and melodically inventive solos on such classic albums as Milestones and 'Round About Midnight influenced an entire generation of drummers. Jones died in 1985.