Elvin Jones: The Great Liberator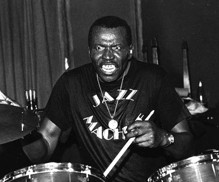 When Elvin Jones moved from his home town in Michigan to New York City in 1956, the jazz-listening world wasn't quite ready for the drummer's outer-space conception. His loping, circular sense of swing and abstract, barline-blurring breaks weren't easy to listen to or easy to follow, which often left him searching for work. In fact, in 1957, Elvin was fired from trombonist J. J. Johnson's band, most likely because of the drummer's uncompromising "new" approach.
But all of that changed in 1960 when Elvin found himself in one of the most influential groups in jazz history—The John Coltrane Quartet. Elvin's unpredictable phrasing, ever-shifting accents, and super-human energy were exactly what Coltrane needed to propel his music to supreme levels of spiritual, intellectual, and emotional intensity. As the jazz-listening audience caught up with Coltrane's startling new sounds, Elvin rose to worldwide recognition as the most influential drummer of the '60s.
From a technical perspective, Elvin's work with Coltrane—as well as his contributions to earlier recordings with Sonny Rollins, Tommy Flanagan, and others—expanded the liberated swing of Roy Haynes so that each limb was now an equal partner in timekeeping, solo phrasing, and rhythmic accompaniment. Nothing was static: The ride cymbal was able to break from the standard "spang, spang-a-lang" pattern, the left foot was free to play offbeat injections beyond the typical 2 and 4 backbeats, and the bass drum and left hand were left to throw in a conversation of their own. Elvin also dove deep into polymeters, often superimposing contrasting time signatures over standard 4/4 swing, and he was one of the first drummers to fully explore broken-triplet subdivisions. Advertisement
With his full-blown rhythmic voice and newfound popularity, Elvin quickly became a prolific sideman, appearing on many classic post-bop records with artists like Wayne Shorter, Ornette Coleman, Joe Henderson, and Larry Young. The drummer also took his first stab at band-leading, releasing the aptly titled Elvin! in 1961.
Eventually Elvin and Coltrane would part ways, presumably after the saxophonist shifted further into the arhythmic sounds of the avant-garde on his 1965 record Transition. The move allowed the drummer to focus more intently on his own band-leading efforts; Elvin's band, The Jazz Machine, would remain active until the drummer's death in 2004.