Influencer: Alan Dawson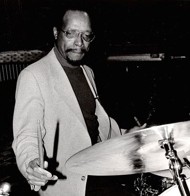 Alan Dawson was an outstanding jazz drummer and a legendary teacher. He was strongly influenced by Papa Jo Jones, and his first break came in the early '50s with the Lionel Hampton band. By 1951 he was working with Sabby Lewis and building a solid reputation as a superb jazz drummer in the Boston area. Between 1963 and 1970 Alan was the house drummer at Lennie's in Boston, where he backed a variety of top artists.
Alan was known for his ingenious use of rudiments, his melodic approach to drumming, and an extremely advanced level of hand and foot coordination. As a member of the Dave Brubeck Quartet (with Gerry Mulligan and Jack Six) from 1968 through 1974, Alan also established himself as a resourceful soloist with rock-steady time. Additional performances with artists like Phil Woods, Reggie Workman, Oscar Peterson, Sony Stitt, Dexter Gordon, Quincy Jones, George Shearing, Tal Farlow, Earl Hines, and Hank Jones further heightened his popularity among musicians, who considered him one of the most tasteful, meticulous, and intelligent players on the jazz scene.
Ironically, what started out to be a sideline for Alan—teaching—may be what he is most remembered for. In 1957 he became a member of the faculty at the Berklee School of Music in Boston, where he remained for the next eighteen years. The list of drummers he taught and directly influenced includes Steve Smith, Kenwood Dennard, Harvey Mason, John "J.R." Robinson, Vinnie Colaiuta, and Tony Williams. In 1987 Dawson appeared at Modern Drummer's inaugural Drum Festival alongside Dave Weckl, Kenny Aronoff, Rod Morgenstein, and Steve Gadd. Dawson died in 1996 a the age of sixty-six. Advertisement