Jay & the Americans' Rick Van Horn What he is up to!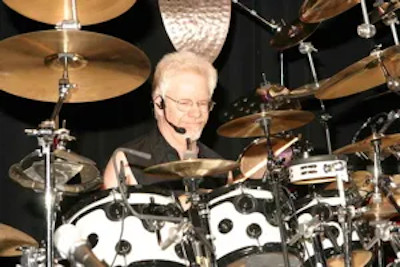 Hello, MD online readers! This is Rick Van Horn. Yes…that Rick Van Horn. It's been a while since most of you have seen my name, so I thought I'd take this opportunity to let everyone know that I haven't dropped off the face of the planet. In fact, since leaving the MD staff in February of 2008, I've been pursuing a widely varied freelance career.
To begin with, in May of '08 I became the touring drummer for the legendary '60s singing stars Jay & the Americans. I'm part of the USA Band, traveling with the group to gigs across the U.S. and Canada. It's a great feeling to return to full-time professional drumming, and it's exciting to be doing that drumming on a national scale for the first time in my long career. Of course, any touring gig comes with its share of good, bad, and sometimes just plain crazy experiences, and this one is no exception. I hope to share some of those experiences with you in future blogs. In the meantime, you can check us out at our Web site, which is listed below. (Click the USA Band icon for bios and photos of the band.)
Along with my J&TA gig, I've also been playing in the house bands for a variety of oldies shows, backing such acts as the Drifters, the Crystals, the Duprees, the Chantals, the Teenagers, and Speedo & the Cadillacs. (Where do they get these names?) These are fun but high-pressure situations where I often don't know what songs I'll be playing until I see the charts at soundcheck! Advertisement
At home in New Jersey I'm involved in a totally different sort of musical project: a high-energy eleven-piece cover band called ThirdValve. With a lineup that includes two guitars, two keyboards, bass, drums, percussion, trumpet, sax, trombone, and a lead singer, it's the largest band I've ever worked with. Our repertoire ranges from classic horn-band music to full-on rock 'n' roll. This is a labor of love for everyone involved. We recently recorded a six-track CD called ThirdValve: IPO, and you can hear MP3 versions on our Web site, also listed below. I'm doing all the drumming, many of the background vocals, and the lead vocal on "Midnight Hour." Check 'em out and let me know what you think.
In addition to my live drumming, I'm still very active in the world of drum journalism. In fact, world is the operative word, since my columns and articles can now be read in Drumscene (Australia), Batteria & Percussioni (Italy), and Bateristas Al Sur (Argentina). Here at home, the April 2009 issue of Percussive Notes featured my article on "The Fine Art Of Listening." As you might expect, my articles pretty much focus on my favorite topic: being a working drummer in the real world.
I'm also pursuing a variety of educational activities. I'm currently on the faculty of the University Of The Arts in Philadelphia, where I teach two classes. One is for entering freshmen drummers, on the subject of (not surprisingly) how to be a working drummer. I also teach a graduate class in music journalism at UArts. And this past August I took my working-drummer theme on the road with a clinic appearance at the Drum Road Trip weekend-long event in Webster, New York. I had the pleasure of sharing the bill with Rod Morgenstein, Zoro, and Johnny Rabb. Advertisement
That pretty much brings me up to date. I'm keeping busy, but I definitely want to keep in touch with everyone in the drumming community. To that end, I'm on Facebook, so check in from time to time to catch my updates…or drop me an email on FB to communicate directly with me. I'd love to hear from you.
www.jayandtheamericans.com

www.3rdValve.net