Jake Bundrick of Mayday Parade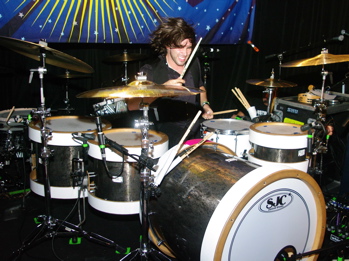 It's day four of the AP Fall Ball tour with the Academy Is…, Set Your Goals, the Secret Handshake, and You Me At Six. I couldn't be more stoked to be out on the road with my friends and family again. I'm not so stoked, however, about blisters. I'm sure other drummers deal with the problem too, but I get serious blisters for the first couple weeks of every tour. My view on drumming: Play hard or don't play at all. When I say play hard, I mean it, hence the reason for all my blisters. I've found that Super Glue only makes them worse, but New-Skin actually helps to pad the blister a bit. Add athletic tape to the equation, and you have a somewhat effective way of eliminating not all but some of the pain you may have while playing a forty-five-minute set every night. I should be fine in two weeks. Until then, I'll bite the bullet and quit whining about it.
I'm excited to say our new sophomore record, Anywhere But Here, is out. We spent a long time writing and recording the record, and I feel we did a great job. It also helped going through drummer boot camp with producer David Bendeth. He's a treat to work with, but he's not afraid to tell you how he feels about your playing or how much you may suck in a certain area. With his help, I think we created something enjoyable that all of us can be proud of.
I want to thank everyone at Zildjian cymbals, SJC drums, Vic Firth sticks, Evans heads, and DW hardware for treating me so well. You're all great companies that take amazing care of your endorsers. Last but not least, thank you, Modern Drummer, for thinking of me. It means the world. Advertisement
For more on Mayday Parade, visit www.maydayparade.com.