Catching Up With Gregg Bissonette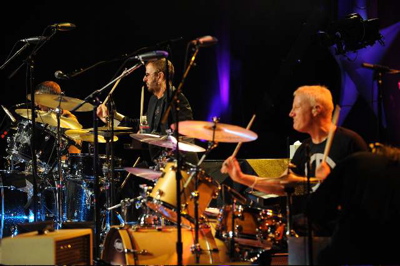 Have you seen the movie The 40-Year-Old Virgin? Or watched Spinal Tap perform on The Tonight Show With Conan O'Brien? Or maybe caught a rerun of the ever-popular NBC sitcom Friends? If so, you've heard one of the most versatile drummers in the business, Gregg Bissonette.
Since coming out of the North Texas State University (now the University Of North Texas) One O'Clock Lab Band, Bissonette has worked steadily across a number of genres, from jazz with trumpeter Maynard Ferguson to rock with David Lee Roth. He's also been a regular at top studios in Los Angeles and a member of Beatles drummer Ringo Starr's band. Gregg, who recently celebrated his fiftieth birthday, caught us up on his latest projects.
MD: This past June you played two high-profile concerts with Spinal Tap, "Britain's loudest band." How did that musical relationship come about?
Gregg: I started playing with them [real-life actor/musicians Christopher Guest, Michael McKean, and Harry Shearer] in the late 1990s to promote their comedy tour. We did a lot of television shows, including The Late Show With David Letterman. I also played the Live Earth concert with them on 7/7/07 to raise awareness of global warming. At that time, the concert had the largest viewing audience ever. Two billion people saw it on the BBC, on other television networks, and via streaming over the Internet. Advertisement
Spinal Tap's new album, Back From The Dead, debuted this past June 16, just before their concerts at the Glastonbury Festival on June 27—for 150,000 people!—and their One Night Only World Tour at Wembley Arena on June 30. The new album is basically fresh recordings from their first CD, This Is Spinal Tap, plus some new material. We also recorded all the downloads for the computer game Rock Band: Spinal Tap.
MD: What movie soundtracks have you played on in the past few years?
Gregg: Flash Of Genius, The Bucket List with Morgan Freeman and Jack Nicholson, Enchanted, Finding Nemo, Superbad, Tyler Perry's Why Did I Get Married?, The 40-Year-Old Virgin, Polar Express with Tom Hanks, and John Q with Denzel Washington.