Scott Garapolo of Apache Stone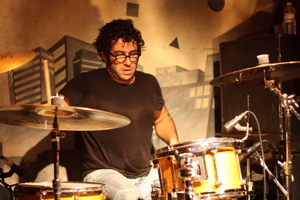 Hey, MD readers! First off let me say that it's the biggest honor to appear here, I've read this magazine religiously for years, so I'm psyched!
I just landed the gig with Apache Stone, a band fronted by Mike Lombardi of the TV show Rescue Me. It's a real band, folks! We have an ever-extending string of shows up and down the East Coast that I'm fortunate to be a part of, and a brand-new debut CD available from iTunes.
I got the call to audition from John D'Uva, the co-producer of the just-released CD and someone I'd worked with in the past. He was kind enough to let me know that I was the first guy he thought of "or, the second…no, the third. But I love your playing!" Ha! Anywhere on the list is a good place to be. Anyway, he gave me a few hints about what to bring musically into the audition, like: They want someone to hit hard but with nuance; the sound is coming partially from some of the great '90s bands like Pearl Jam and Soundgarden; being on a click is a good idea (and more and more common for me in the gigs that I do around New York City. I'll talk more about this later).
I charted out some cheat sheets for the three tunes they asked for, programmed the tempos in my metronome, and put the iPod on repeat. This is mental practice, not actually sitting at the kit–I know that might not work for all, but that's how it works best for me. I did a lot of practicing like this as a kid too. When it was too late to bash drums I would get a lot out of picturing my way around the kit, singing the drum parts. I remember being told by some wise instructor along the way, "If you can't sing it, you can't play it." Advertisement
That audition just felt great, the boys responded as I had hoped, lots of energy in the audition. However, it was then a, "Thanks for coming, you sound great…." I thanked them for having me and went off into the night, not sure I'd ever hear from them again. I got a call the next day and was told that it was between me and one other drummer, and that they'd like to have us both down one more time to play the entire set of tunes.
I only had a few nights to get it together, so there would be more cheat sheets for sure. I hate to preach, but reading music has been a skill that has directly or indirectly brought me loads more opportunities, so I recommend getting that together.
In these situations, I often take 4×6 index cards and write charts with a Sharpie. (Here's a pic of my cheat sheets for this gig, in case you're interested: www.iamadrummer.com/charts.jpg.)
I can hide these pretty well by clipping them onto my kick drum, or more often on my metronome, which is on my hi-hat stand. They are a lifesaver, or at least a time-saver. So, I came in again and played the set of tunes, but since I was the first of the two drummers, it was another, "You killed and it sounds great!" And then there I was standing on the street waiting for my phone to ring. Luckily, Mike gave me a buzz the next day and offered me the gig! Sa-weeeeet! Shows were starting the following week, and, as a matter of fact, there would only be one rehearsal before the first four shows. The cheat sheets would have to hang around for a little while longer. Advertisement
I can't say enough about the importance of being comfortable with the click. With Apache Stone, I play the entire set of music with the click. A good programmable metronome and in-ear headphones are key. I was lucky that my first teachers drilled into my head the importance of the click when practicing. (Thanks, John Buno and Rick Vitek!) If it feels uncomfortable to play with a click, I urge you to keep working at getting locked in with it. Eventually, when you get it right, you won't even hear it, and you'll never have to have that dreaded conversation about whether a tune dragged or rushed. This might not work with every type of music, but in some rock and pop music where there's no push and pull of the tempos, this is a big help.
It's been amazing to waltz into a band that is fully cooking and all dialed in. That's made my job very easy and very fun. The vibe with these guys is a wonderful fit for me music-wise, attitude-wise, etc. I hope to meet you at an upcoming show, and keep in touch!
Please check out the band at www.apachestonemusic.com or www.myspace.com/apachestonemusic for current info and tour dates. Also, please stop in and be my e-friend at www.myspace.com/scottisadrummer and www.iamadrummer.com.
 
Photo credit: Lisa Gansky Advertisement