A Different View: Paul Shaffer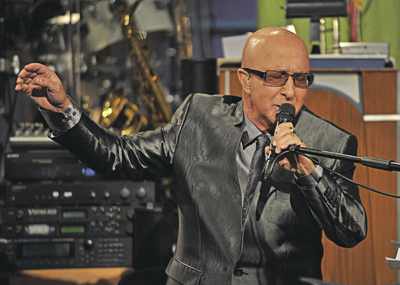 By Billy Amendola
MD's December issue, out now, features a Different View interview with bandleader Paul Shaffer from The Late Show With David Letterman, whose autobiography, We'll Be Here For The Rest Of Our Lives, was released recently. For this online exclusive, we continue our chat by discussing a few of Shaffer's favorite timekeepers.
MD: I'll mention drummers you've worked with, and you say the first thing that pops into your head about them.
Paul: Let's do it!
MD: In the book you talk about being a huge Phil Spector fan, so let's start with Hal Blaine.
Paul: I got to play with him for the first time in '77. I had a very brief career as a sitcom actor with a show called A Year At The Top.
MD: I remember that show; it was with actor Greg Evigan.
Paul: That's right! It later became B.J. And The Bear. Greg's a very nice guy and a multi-instrumentalist as well who plays pretty good drums himself. Anyway, at the end of every show we would lip-sync a song. So this meant we had to cut tracks. I got to arrange these tracks, and the greatest of the great studio musicians in L.A. would come in to do them. Harvey Mason played on quite a few, but this one time we were going in to cut "He's A Rebel," one of the great Spector tracks. Just by coincidence the contractor was Frankie Capp-who had been the percussionist on all the Spector sessions-and he booked Hal Blaine. He didn't even know we were going to do a Spector song, and Hal came in to play. I hadn't met Spector yet, but what an opportunity to get to cut his "Rebel" with the actual Hal Blaine. I learned an awful lot right there from Hal. One of the things he said was, "There were no cymbals on this track. Sometimes Spector wouldn't let me bring cymbals in-I had to leave them out in the hall." So he would just play the bare beat, with no 8th-note ride. As we cut it, it felt weird because I was so used to having a drummer riding either a hi-hat or a cymbal, but there was no ride going on. And then Hal said, "After we got the track, everybody would come into the studio and overdub the percussion." Frank Capp played the castanets against his thigh with one hand on top, the way those guys play the spoons. He had them rattle against his hand and thigh. When all of that went on, it felt just like "He's A Rebel." I mean, those were the days when a record could speed up a little bit. In fact, you wanted it to speed up when it got more exciting toward the end; the choruses would kind of pick up a little, and the verses would drop back. And when you lay all that percussion and the 8ths and the 16ths on top of it, it was like magic. Advertisement
MD: Anton Fig.
Paul: I first met Anton on a session for Joan Armatrading. We played a week together making her record Me Myself I. His sound was what got me initially. It was a very contemporary rock 'n' roll sound that I wasn't used to hearing from studio players in general. And of course he played on a lot of authentic records and sometimes played with bands instead of their drummer. He combined that with an impeccable sense of time, and the two were a hell of a combination because a rock 'n' roll drummer who can get a sound like that doesn't always play in perfect time. Plus he can read, and he can think arrangement. It was just a hell of a combination.
MD: Steve Jordan.
Paul: Just brilliant. He and I are very close friends, and when we were playing together all the time we also hung out incessantly. We share a love of music and a preference for a lot of the same things, including, as I mention in the book, the Temptations' live album. That was important to both of us when we were kids. To hear what the Temptations' show was like, just kicked by this drummer-I don't know who it was, but the tempos were lightning fast. It was so exciting and snappy. It was a lesson in R&B-show drumming. And Stewart Copeland was an influence on Steve. He loved the Police and he loved Stewart Copeland and that high snare. Steve was also a huge fan of the Beatles. Those were influences, but he made a style of his own.
MD: Speaking of the Beatles, what are your thoughts on Ringo? And how did you get him to make an appearance on your second solo record, The World's Most Dangerous Party?
Paul: He was friendly with my manager, Eric Gardner, who has also managed Todd Rundgren for many years, and Todd produced that record. Eric just offered, "If you want, I'll ask Ringo if he'll make an appearance." And we did it over the phone, little vignettes that took place in between each cut. Ringo was nice enough to take a call and allow me to record it. It was the funniest thing, but we were just talking about songs. The album was like everybody had come to a party and we were playing at the party. For some reason, while I was talking to him "Love Me Do" was in my mind. I can't exactly remember why, but I said, "Hey, you want to sit in and do 'Love Me Do'?" And he said, "That's the only one I didn't play on." [laughs] Ringo swung those records and made them all feel great. That's a talent you can't buy. Something about rock 'n' roll records, especially the early ones, they were right in between the shuffle feel and the straight 8th feel. He was uncanny; he could place it right in that slot. Or if he was playing it one way he would overdub a shaker or maracas that would make it go the other way. The Beatles were wise beyond their years. It goes beyond a great fill or chops or anything like that. But he was not without chops. You have to have chops to be able to do all that-and to me that's the function of drums, to make you want to dance! Advertisement