Ten Year Vamp's Gregory Nash talk about his journey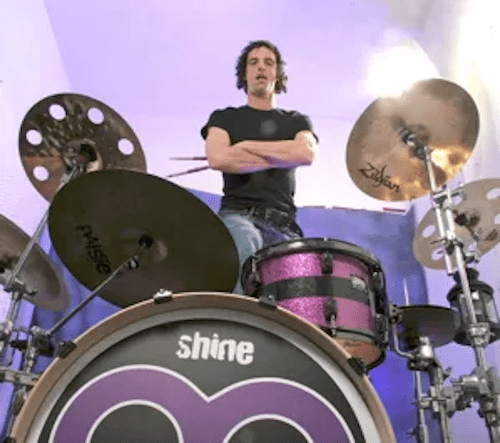 Hello, MD readers! My Name is Gregory Nash and I reside in upstate New York. Over the years I've played in a very wide variety of bands, each with different styles and influences. This experience has led to a unique approach to the drumkit and to playing music in general.
Among the artists I've recorded and toured with are Jeanne French (CBS), Soul Session, and Sirsy. I am currently the full-time drummer for Ten Year Vamp, a popular female-fronted modern rock band that tours the East and Northeast coast. We've just released our debut CD, and I'm incredibly proud of it. Playing with such talented musicians has also given me the opportunity to share the stage with such acts as Cheap Trick, Katy Perry, Maroon 5, Paramore, Blues Traveler, Collective Soul, Junior Walker, Susan Tedeschi, and John Waite. I'm also set to release an EP for my original band The Pain, featuring Leo Curley of Biohazard on guitar and Bob Horvath on bass.
It took me years of playing many different styles and "driving the bus" for bands that span a wide stylistic spectrum to get to this point in my career. I'm a hard rock drummer and always have been. This was solidified on my eighth birthday, when I received the spectacularly packaged KISS Alive 2. From the moment I heard the roar of the crowd and the opening chords of "Detroit Rock City," it was clear what I needed to do with my life. Advertisement
I've worked a plethora of odd jobs, all to fuel my true passion: playing and creating music. I would play with any band, anytime, anywhere. I've played soul, jazz, metal, funk, reggae, alternative, folk, pop, blues, thrash, country, and of course rock. I believe every drummer should try to experience playing as many styles as they can. It gives you the chance to apply these aspects to your own playing and help make your drumming unique, thus making it truly your own style. Eventually I landed in a spot in which I can utilize all of my experience and concentrate it to my true niche and love, hard rock.
I've been playing for seventeen years, and I've never had more passion than I have now. I've passed up incredible employment opportunities and financial advancements in order to stay loyal to my dreams of being a successful musician. I'm more driven than ever, because as I age I get to apply all the things I've learned over the years, and I'm surrounded by incredible and respectful musicians. I cannot stress how important it is to play with the right people, both musically and socially. If you're in a negative or limiting situation with stagnant, dead-weight players, run, don't walk, to a more positive situation.
To fill up my empty calendar dates, I put together and play with tribute bands (Aerosmith, Kiss, Black Sabbath, Iron Maiden, Led Zeppelin), to honor and recognize how much these bands influenced my life and career. Over the summer of '08 I performed a series of dates on the Van's Warped Tour with Blase Debris (Altercation Records), which resulted in a full endorsement from Shine Custom drums and Stagg cymbals. (These cymbals are incredible, check 'em out.) I also teach, and when I'm not on the road I can be found hosting the weekly open-mic night in my hometown of Colonie, New York. Advertisement
The main point I'm trying to convey in this blog is that if you love what you do and you have passion for playing music, don't let anyone or anything stand in your way. Whether I'm rich or poor I will always have my music and creativity. The drumset provides an endless world of possibilities and can be an incredible source of comfort and inspiration. The only place I truly feel at home is behind the kit, and I wouldn't give it up for anything in the world. As one of my favorite artists, Nikka Costa, simply puts it, "Keep On Pushin'."
For more on Gregory Nash, go to www.myspace.com/gregorynash or www.tenyearvamp.com.