Pat Petrillo — <i>Learn To Read Rhythms…Better!</i>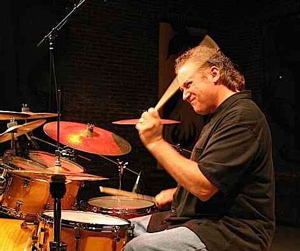 Hey, MD fam! Hope you're all having a blast this summer and getting time to chill a bit–or gig a lot! Either way, hope you're having fun. Things have been mad busy with me, so here's a bit of an update.
In June I went back to the U.K. for my annual clinic tour, and it was great fun meeting new drummers and teaching a lot. It's a bit hectic, as every day is pretty much in a different city–suitcase and cymbals through the tubes, etc. While there, I had a visit to my personal Mecca, Abbey Road Studios, for the fortieth anniversary of the release of the Beatles' Abbey Road record. I took time out to do a little video blog, and I've included it below–I hope you dig it and get a feel for what this place is all about. It has an amazing vibe, and it is very inspiring. The Beatles and Ringo had a profound effect on my becoming a drummer, and like so many others I'm still inspired by their music today. This is my tribute, and the video says it all.
Another happening is Ludwig has released my new P4 practice pad, and I couldn't be more proud of how it turned out. It's shipping to stores as we speak, and it's also available at many online locations. Basically it's a multi-surface, multi-level pad that feels like a mini drumset. Each pad has a different response and feel–it's pretty unique, and it's helpful in developing hand independence. Advertisement
I'm also putting the wraps on my new DVD, Learn To Read Rhythms…Better!, which I'm really excited about. It's basically an e-book on how to read rhythms and also comes with a teacher: me! Look for a fall release.
And I'm proud to be playing Vater drumsticks. I have a great stick that they made for me, which we're calling Pat Petrillo's Groovalution. I am proud to be part of such a great company that not only makes a great product but is also into education very heavily. So Vater will be doing an educational poster featuring excerpts from my Hudson DVD/book Hands, Grooves & Fills.
Of course, teaching at Drummers Collective and at my spot in Jersey is keeping me crazy busy as well, and I am very happy to have such an active practice with so many cool students from around the world. Advertisement
As you may know, I am now a proud Ludwig endorser, and I was honored to be included in the new 100th Anniversary DVD, as well as in the new catalog. Growing up as a kid, I would see those great catalogs and drummers, and it's humbling to now be a part of that great history.
Thanks for reading! Check out any of my products here. www.justdrumsonline.com/store/pc-3851-79-pat-petrillo-lp4-practice-pad.aspx
And my Abbey Road tribute. www.youtube.com/watch?v=XzBT0ODHyaA
And feel free to hit me up at www.patpetrillo.com or www.myspace.com/patpetrillo.