Jes Calcaterra of Billy Boy On Poison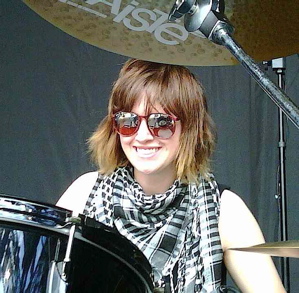 Hey, MD readers! My name is Jes Calcaterra and I play drums in Billy Boy On Poison, a Los Angeles—based band with Ironworks Music/Universal Republic.
All of us are young people with old souls, exactly how the music sounds. Although we grew up mostly in the '90s, our parents made sure we were well versed in classic rock 'n' roll–everything from the Stones and the New York Dolls to Iggy and the Velvet Underground. Even a lot of new rock shines through in our sound–the White Stripes, Queens Of The Stone Age, Black Rebel Motorcycle Club, etc. We just released our first album, Drama Junkie Queen, in July, so it's been a busy summer. We played Summerfest in Milwaukee with Jet, and in June we did a short U.K. tour–which included the Donington Download Festival–and we just got back from Fuji Rock in Japan, which was a blast!
Being the only girl in the band is really intimidating but has its advantages. Trying to keep up with three boys has helped shape me into the drummer I am today. Starting out I played jazz, marching, and symphonic music, mostly in high school. I moved out to L.A. from Colorado the summer after I graduated, to join BBOP. I started citing drummers such as Charlie Watts, John Bonham, and Keith Moon. I play with nerve (balls, if you will) but remember that drums should still have soul. I recently joined the Paiste family as an endorser, and I'm excited and driven to see what the future holds!
Go have a listen to my band at myspace.com/billyboyonpoison or billyboyonpoison.com. And please feel free to write me. I would love to geek out on drumming anytime! Thank you so much for reading, and thanks to MD for the gracious introduction. Advertisement