Keygrip's Jared DiLalla the path taken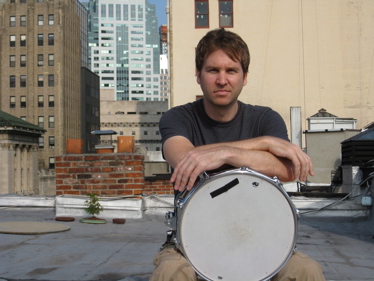 Hello, MD readers and fellow bloggers, my name is Jared DiLalla and I'm the drummer in New York City's Keygrip. NYC is a challenging yet rewarding place to be an active, working musician. I moved here a decade ago, motivated by the burgeoning indie scene, which continues to thrive today. This is a great place to cut your teeth, no doubt challenging at times, but ultimately worth the sacrifice. There are so many talented drummers here–talented everything, really. I've had the pleasure of working with a wide variety of acts over the past ten years and have been lucky enough to be invited on several tours.
Drumming in NYC, practically speaking, requires that you quickly learn how to be efficient. Most guys I know, me included, travel with as little as possible. Pared-down hardware, a snare, pedal, and cymbals are what's typically brought to a gig. Usually the clubs with a decent backline will provide the rest, though sometimes you're forced to get creative. When I'm touring, my kit is a 16×22 birch bass drum, a 9×12 rack tom, a 16×16 floor tom, a 5 1/2×14 DW maple snare, a variety of Zildjian cymbals, and coated heads on all the drums.
When I'm away from the drumset, I write and record as much as possible, programming beats and rhythms to tunes that I write primarily on guitar and piano. I've found that taking on the role of the songwriter has allowed me the insight to approach drumming in a variety of new and exciting ways. I would recommend this exercise to anyone who hasn't had the luxury of formal musical training. Advertisement
If you're interested in hearing some of what I've done, check the links below. Keygrip will be on tour throughout the East Coast this fall in support of the record Vis-à-Vis.
Thanks, MD!
See what Jared's up to at www.keygriponline.com and
www.myspace.com/keygripband.