Dave McAfee with Toby Keith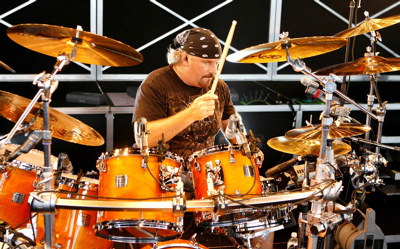 Story and photos by Sayre Berman
Things haven't changed much for Dave McAfee. He played the drums as a kid, and he plays the drums as an adult. He moved around a lot as a kid, and he moves around a lot now. Really, the only difference is that he just happens to be drumming with one of the biggest country music artists of the era, Toby Keith.
Dave, Toby, and the rest of the band have indeed been moving, all around the globe, on annual world tours. Talk about realizing some childhood dreams! Modern Drummer caught up with McAfee, who won Best Country Drummer in our 2009 Readers Poll, at the Cruzan Amphitheatre in West Palm Beach, Florida, about six shows into Keith's 2009 global expedition, America's Toughest Tour.
MD: What initially sparked your interest in the drums?
Dave: I remember seeing a marching band in Lawton, Oklahoma, when I was really young. It was during a parade. When the drum section was coming closer, it was powerful and exciting. When they actually passed by, I think I was the only one not covering my ears. It was the coolest thing I had ever seen, and I was hooked. Shortly after that, my cousin Joan let me play her drumset when we visited. I was way hooked after that! Also, the school band directors were always sending home things that asked to get me involved in drum lessons. My dad was in Vietnam at that time, so my mother was running the house by herself, and she thought this was a great idea. When I finally got a snare drum, she was going to make me practice for an hour a day. Funny—when she heard the racket she rarely let me go more than fifteen minutes. [laughs] Advertisement
MD: Who do you credit with influencing your style?
Dave: When I was growing up, there was a guy named Larrie Londin on drums on many of the recordings that I got, and not just the country ones. I'd never realized that one drummer could play for all these different bands. My dad and I sometimes played a game: Whenever we heard a new song, we'd try to guess who the drummer was. We felt like we could always tell when it was Larrie Londin. The drum sounds sucked me in more than anything. It wasn't until later that I realized what a pocket Londin had. He made me start to think about drumming as a career.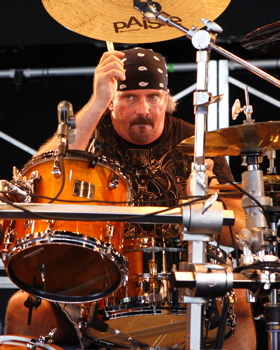 I got to meet Larrie in the late '80s. I'd been playing professionally in a band called Mason Dixon when I was twenty-three years old. They were cutting a record for Capitol—we were just the road band—and the boss flew me in to watch the recording. Guess who was there in the studio? Larrie Londin! During a master session, Larrie let me sit next to him with charts on a music stand and a set of headphones. He gave me a glimpse at straight-up reality. That became a template for what I wanted to do. Sadly, Larrie passed away several years after that. I wish I had the opportunity to meet him again later, after I knew what I was doing. I certainly would have thanked him.
MD: You've been touring with Toby Keith now for nine years. Tell us the story of how you originally hooked up with him.
Dave: I'd been working with touring bands out of Nashville for several years. I was with a great artist named Wade Hayes. Wade had just taken a hiatus. Toby's drummer had left to explore another opportunity, and that's when I got the call to come play with Toby. They had a few guys on their list, but when Toby saw my name, he called me without an audition. I've been there ever since. Advertisement
MD: What are some of the more interesting venues that you've played?
Dave: That's a question I've loved answering over the years, because it keeps getting better. We've played several countries I can barely pronounce, since we've done large USO tours every year since before the Iraq war. There's nothing quite like playing a show in an active war zone. We got to play Live 8 in Philly for millions of people. We played Buffalo Chip campground in Sturgis, South Dakota, in a complete downpour. That turned into the largest wet T-shirt contest in history. We played the Post Gazette Pavilion in Pittsburgh with FBI and ATF snipers in position after multiple "credible" death threats had been phoned in against Toby when "The Angry American" was out. We still have the all-time-high attendance record there from that night. We got to do Super Bowl XXXVIII. I will never forget the all-day rehearsal with Steven Tyler and Joe Perry for a Toby special we did. That was a great day!
MD: You guys have a great show, not just audio-wise but visually too. Are there any special high-tech and/or electronic techniques that you use?
Dave: I'm using three microphones for the kick drum. One is an old-style Shure SM91 inside the drum, near the batter head. Doing it that way gives our soundman the ability to control the attack any way he wants. Then, mounted inside the drum we have the Yamaha Subkick, which gives you all the low end that you could ever need. At the air hole in the front head we have a Shure Beta 52. The microphones are time-aligned so the crowd hears it as a single note when you play the kick drum.
We don't mike the bottom of the snare; we do a top mic and a condenser mic mounted at the side of the drum. That picks up the cross-stick without having to adjust the mic on top and actually helps pick up the radiant metal or wood sound of the drum. In country music you do a lot of songs that require a cross-stick, and this setup enables us to produce that sound live without a sample. Five or six songs in our set, particularly the ballads, require this technique. We've been doing it this way for years. It's one of those things you may not notice right off, but you miss it immediately if it's not there. Advertisement
I'm also using the Yamaha ClickStation, and we do some syncing to video. Willie Nelson appears on video and sings the second verse of one of our songs. The video has a click track, which they send to the monitor board and then to me. The video engineer will hit the start button on a pre-planned cue from Toby. I get a computer count in my left ear, then I play with the click and the band plays with me. It all blends in seamlessly. We found this to be a fail-safe method.
MD: It looks like you have a great relationship with your drum tech, Lance Stoner. How long have you guys been together?
Dave: I've worked with Lance for quite a few years. He has some great experience from being out on tours longer than I've been. He worked with Yes back in the day, as well as other great big-time acts. Nothing phases Lance. That is above all what I need out there from a tech. Everyone in our band loves Lance, because he's always around and always has solutions or tools available, and he never gets excited about it. He is a total pro. He changes heads and knows my kit as well as I do. He polishes cymbals and runs my stock trunk because he wants to. We never have a panic moment about anything. I think that's what every drummer wants from a tech.
MD: Are you involved with any other projects when you aren't on the road with Toby?
Dave: This last year has been really hectic, but great. I got to play drums and be a coproducer on Jamey Johnson's That Lonesome Song. The album got great critical acclaim and was nominated for three Grammy Awards and five ACMs, and it won ACM Song Of The Year for "In Color." We're just completing the next Jamey record. I also got to play on Wade Hayes' new album, Place To Turn Around. I love Jamey and Wade. Both those guys are as real as the day is long. It's a huge honor to get to make music with guys who will be looked back on as legendary in our genre. Advertisement
MD: What would you like to see the future hold for you?
Dave: I just hope things continue like they have been. I couldn't ask for more. There are a lot of guys out of work these days, and I don't take a minute of it for granted. I feel like Toby will keep going as long as it's fun for him and as long as his fans keep us going. He's been having more fun these last few years than he had before, so I don't see him parking the buses anytime soon. As for the other things, I'm really enjoying getting in on the ground level of some great projects, and it really is living the dream when you get to play music you love for a living. I would like to be recording Jamey Johnson's tenth album in a few years—how great would that be?
Check out www.tobykeith.com for tour schedules and more.