Daniel Glass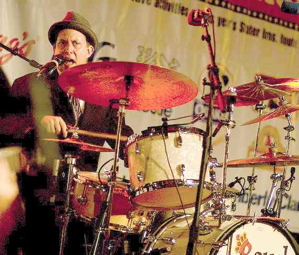 Hello to all MD readers and drum friends. It's been a while since I've posted to this blog–not for lack of desire–but because I've been running all over the globe attempting to make a living by hitting things and writing about them.
This has been an exciting year full of wonderful blessings. First, my latest book, The Commandments Of Early Rhythm And Blues Drumming–which earned a 4 1/2 star review in the August issue of Modern Drummer–has been released. If you're at all interested in understanding more about our drumming tradition as presented in a high energy, informative, and fun format, I strongly recommend that you give this book a look-see. It covers the roots in a comprehensive manner like you've never experienced–jump blues shuffles, early-rock style (half swung/half straight grooves), Chicago blues, New Orleans R&B, Earl Palmer's work, Bo Diddley beats, surf beats–these are just a few of the topics covered. There's plenty of great pics too–vintage drums and cool kits of yesteryear–and any order made off my Web site will be personally autographed.
Along these very lines, Zoro and I will be doing a clinic at this year's PASIC (in Indianapolis) on Thursday, November 12. Not surprisingly, we'll be talking about material from the book and demonstrating some of the grooves therein. You guys know what a great clinician Zoro is, and I can guarantee that there will be a lot of heavy grooves flying around that joint. I hope some of you can make it out–if you've never been to a PASIC before, prepare for a life-altering experience. It's like NAMM, but for drummers only! Advertisement
In other news, I currently have a five-part series running in Modern Drummer titled "Nouveau Retro." The series examines a variety of American styles (classic swing, early R&B, rockabilly, and early rock 'n' roll), offering a bit of historical perspective, playing/tuning techniques, and sample grooves.
One final piece of great news I'd like to share is that I've recently been added to the Drummerworld site. It's another huge honor, and one that I hope will help introduce classic American sounds and styles to a worldwide audience of drummers. There are some great video clips there, and you can learn more about how I combine drumming and history together in a cool new way.
We desperately need to keep our heritage alive–and I think after almost two decades of screaming out this message to the drumming community through my music and writing, perhaps some folks are starting to pay attention. Advertisement
May you all have a terrific summer!
For more info on Daniel Glass, go to www.danielglass.com.