Bobby Morgenthaler of My Favorite Highway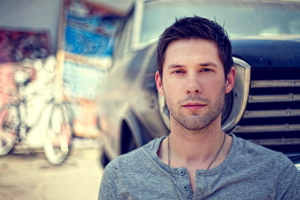 It's blog time, people! My name is Bobby Morgenthaler, and I've had the great privilege for the last three years of playing drums in one of Virgin Records' newest pop-rock bands, My Favorite Highway. Having just released our first major label record, How To Call A Bluff, we're excited to hit the road this summer and share our music with the world! A few of the artists we'll be on the road with this year are the Cab, Hellogoodbye, Kelly Clarkson, and the All American Rejects.
It's been a long journey thus far, but an honor to finally be given the chance to play alongside such talented individuals, and to reach out to the Modern Drummer community in this blog. (I definitely consider things like this to be one of the perks of the job!)
Being signed to a Virgin Records has allowed me in recent months to be able to meet so many other incredibly talented artists. I've really made it a point to be as teachable and as open-minded about my playing as possible, which is a very important lesson in the process of writing and recording a new record. When My Favorite Highway went into the studio to record How To Call A Bluff we were blessed to be able to work with a couple of very close friends of ours, producer Paul Barber and mixer Jeff Juliano, whose credits include Dave Matthews and John Mayer. Still, even after countless recording experiences and the familiarity of the people I was working with, I learned so many new things about my playing as well as my band. Advertisement
Some of the best drummers I've ever known are the ones that understand songwriting. Trust me, nothing will make a lead singer happier then to have a drummer who structures his or her parts to complement the lyrical structure of a song. (This isn't just a tip for pop musicians; it's true for all styles of music.) Drummers shouldn't just hit the drums, they should play the drums! Remember, the greatest opportunity that a band has at being dynamic is to have a dynamic drummer who understands his or her place in the band. This is just one of the few things that I'm reminded of every time I sit down behind the kit.
Speaking of drums, to put together my dream setup I recently teamed up with a few companies that I consider to be among the best in the biz. I'm now proudly representing Gretsch as my drums of choice. My set is a beautiful four-piece Renown Maple kit with a cherry burst finish (61/2×14 snare, 8×12 rack, 16×16 floor, and a massive 18×24 kick). The kit sounds incredible fitted with the combination of Evans G1, EC1, ST Dry, and GMAD heads that I've been recently rocking. The great thing about Evans is the durability of their products. In addition to sounding amazing, they last for a very long time, which is helpful in my never-ending quest to save money on the road–especially in today's economy!
As for cymbals…of all the gear I've gone through in my life, nothing seems to frustrate me more than the task of finding the right cymbals–just thinking about it makes me angry. If you don't know what I'm talking about, don't worry, you will. One day you'll find yourself thinking things like, "This cymbal sounds too brittle" or "That cymbal decays too quickly." Well, recently my cymbal problems were solved. For the longest time I wanted my cymbals to have a rather long decay while still maintaining a good balance between the bright attack necessary to cut through a loud mix and having the deep body needed to get the sound that all the pros have. Solution: Paiste's 2002 series. Specifically, a 17″ crash, 18″ crash, and 22″ ride. For hi-hats I'm using Paiste's Twenty series 16″ medium-light hats. They're the best sounding hats I've ever played. Seriously! Advertisement
Well, I'd love to keep talking drums, but it seems like I'm starting to "geek out" a little too much. (I'll spare you.) Thanks again for taking the time to check out my blog! I look forward to sharing more insights into being a dynamic drummer, as well as seeing many of you on the road this summer with My Favorite Highway!
See you soon,
Bobby
For more on My Favorite Highway, visit www.myfavoritehighway.com.