Stimulate This! Tour with Barry Kerch of Shinedown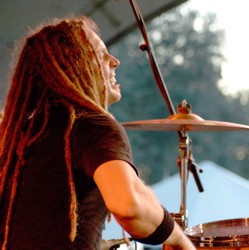 What's going on, everyone in Modern Drummer land? This is Barry from Shinedown. First off, I have to say that I am so honored to be included in the Modern Drummer blog and be surrounded by such great talent. Right now, we seem to be on the never-ending world tour (not a bad thing) in support of our third album, The Sound Of Madness. We are currently on the Stimulate This! tour, which includes Halestorm, Chevelle, and Staind. It's been a blast so far–lots of great drummers on this tour, and everyone gets along. Every night we (Shinedown) throw an after show party that we've named Rock And Roll Summer Camp, where we set up tents and lawn chairs, get some music going, and fire up two grills. I cook tons of food for all of the bands, crews, and random guests, and I have to admit, it's pretty awesome. Aside from drumming, cooking is my other passion. Good food and good people make for a great night.
As for the band's future plans, we've got a headlining U.S. tour in September and October, primarily on the West coast, and then another headlining tour in Europe in November. We'll probably do some holiday shows after that, take a couple weeks off, and then start touring for the year of 2010.
Life on the road has been great over the past eight years. And it's taught me a few things: drink lots of water, practice as often as possible, keep your nose clean, and enjoy life. Everything in moderation, including moderation! Take care, everyone, and keep hitting hard. Advertisement