Stimulate This! Tour with Arejay Hale of Halestorm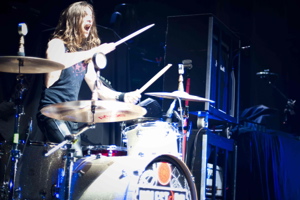 Hey, MD! It's been a while since we last spoke. And speaking of "It's been a while," we're now on the "Stimulate This!" tour with a band I've been a fan of since I were nine years old, Staind. I remember the first time I heard "Mudshovel"–I was hooked! I feel very lucky to be able to watch them every night with my jaw on the floor! Oh, and of course, a little band called Shinedown, one of the most kick-ass rock bands of our time, and currently killing it on the charts with "Second Chance," "Devour," and their latest, "Sound Of Madness." I saw these guys for the first time in 2004, right before we got signed, at a place called Club Tundra in Syracuse, New York, and I was blown away. Brent Smith is one wild front man; he never fails to get the crowd pumped up every night. By the way, did I mention that this tour has a kick-ass lineup? Chevelle are on the road with us too, whom I've never seen in concert until this tour, but I've been a fan of theirs for a long time as well. It's an honor to play in front of such incredible bands that we all love and respect. And a really great upcoming band called Lo-Pro is playing before us, so if you're coming to any shows, get there early.
The tour venues are mostly arenas, outdoor sheds, and big theatres, all with big stages. But with four backlines and drumsets on stage, our space onstage is about equal to what it would be in a small club. My drums are set up right at the front of the stage, which I really like because I can connect with the crowd a lot easier than I can from twenty feet away.
As a drummer, I always learn new things from watching other drummers, especially rock drummers who create energy and excitement when they play. I draw much inspiration from watching Jon, Barry, Sam, and Tommy every night, and I feel prodigiously humbled and a bit nervous knowing those dudes are watching! Not only are all these bands inspirational to an upcoming band like Halestorm, but they're also some of the nicest people we've ever met. From the bands to the crews to drivers, I've never felt so spoiled!