Trevor Stafford of Adelitas Way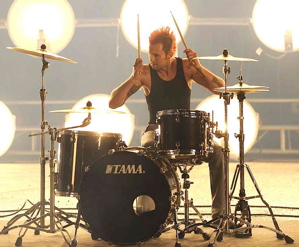 What up, fellow rhythm busters. I'm Trevor Stafford, drummer for Adelitas Way. First off, I have to say thanks to Modern Drummer for being interested in having me contribute a blog! Our self-titled debut album on Virgin/Capitol records hit stores everywhere this past July 14. Our single "Invincible" hit radio the first week of June and has been picked up by WWE: Superstars, which airs Thursday evenings on WGN. It's also available on iTunes.
Adelitas Way is my second full-length album. I recorded the first one about five years ago with my old band, Shuvel As The World Burns. That record has just now been released, and there is some awesome old-fashioned groove drumming on it. Aside from that and the A.W. record, I've done a decent amount of touring and studio work with the Black Eyed Peas, BC Jean, Dead Heart Saints, and Kim Kline, among others.
My drumming style has many influences, from jamming to Michael Jackson and Bon Jovi records in my parents' garage when I was a young strapping lad, to jazz, marching band, and wind ensemble in middle and high school, as well as all my garage bands that made my neighbors' ears bleed. After high school I joined Shuvel, and at the age of eighteen I played Ozzfest. I learned a lot of skill and life lessons from many great drummers on that tour, such as Incubus's Jose Pasillas and Snot's Jaime Miller. I currently play on a beautiful, sparkly all-maple Spaun drumkit, whose sound I receive compliments about wherever I play. I like Spaun drums because they are all made by hand and can handle my brutal pounding. Come see a show and you'll see what I mean. Advertisement
Thanks for taking the time to read, and if you get a minute take a listen at www.myspace.com/adelitasway.
Rock on!