The Drum Lab's Mike Johnston Talks About his Drum School – The Drum Lab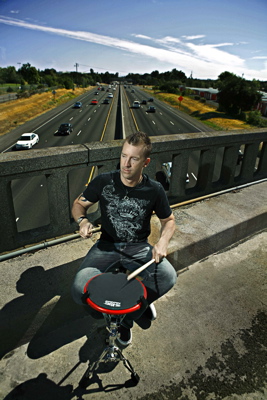 What is up, everyone! My name is Mike Johnston, and I run an educational Web site as well as own and operate Sacramento's first and only drum school, the Drum Lab.
I began drumming at the age of six when the band director noticed that I was passing out while trying to play whole notes on the clarinet. He said, "Johnston, wake up and get on those drums–you're just not cut out for the clarinet." The greatest moment of my life! Ever since then I've been hooked. I immediately enrolled in drum lessons at my local music store and never looked back.
I have been lucky enough to study with some of the great educator/drummers of our time, including Pete Magadini and Steve Ferrone. I currently spend most of my time filming video lessons and giving "live online" lessons on my site, which has two main features. The first is downloadable video drum lessons. Each is about five minutes long and focuses on a specific lick, groove, or exercise. The idea is to give drummers an encyclopedia of lessons to choose from. Purchase the ones you like without having to pay for the ones that don't apply to you.
The second feature is a dream come true for me: 100 percent LIVE online drum lessons. No fuzzy Web cam, no scratchy audio. Full-out streaming high-res video and CD-quality audio. I do the lessons on Mondays, Wednesdays, and Sundays, and I do each lesson four separate times throughout the day. Each lesson lasts about forty-five minutes, with twenty to thirty minutes of lessons and fifteen to twenty minutes of Q&A. Online students get to ask me any question they want, and I answer in real time on camera. Like I said, a dream come true for an educator. Advertisement
We now have exclusive video lessons from one of my idols, the king of the one-handed roll, Johnny Rabb. It's pretty amazing to be a customer of your own Web site. Ha! The moment he uploads a new video lesson I'm the first one to buy it and download it. My most recent project is a new DVD/download with 2003 Guitar Center Drum-Off champion and Suicidal Tendencies drummer Eric Moore, called "Breaking It Down." Eric is one of the most incredible drummers that I have ever played with, but it's all natural with him, so it's up to me in the DVD to "break down" his licks and grooves for the rest of us mere mortals. The DVD/download is out now.
Thank you to DW drums and hardware, Shine Custom Drums snares, Paiste cymbals, Aquarian heads, Vic Firth sticks, and MD.
Mike Johnston
For more info, visit www.mikeslessons.com and www.thedrumlab.net.